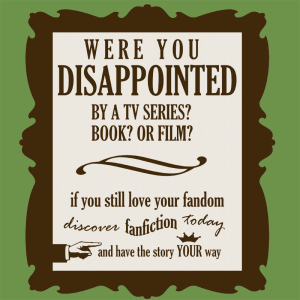 Guest Post
by Kat Cantwell
Fanfiction is one of those words you've very like heard before, as it's becoming increasingly popular, but you might find yourself asking, "What is fanfiction, really, and why do I care about it, as a (self-)published author?"
Fanfiction is pretty much exactly what it says on the tin: It's a piece of fiction, written by a fan of a particular work (or real person or historical event), about that work. It may be an attempt to further explore a character or a relationship between characters – romantic or platonic – or it may be a sort of 'what-if' scenario. Or it could be the urge to throw the characters into a different setting – like a coffee shop, university, or different time period – or into a different creator's world entirely. Sometimes, it's a way for the fanfiction author to interact with the characters themselves, by inserting a(n often idealised) version of themselves into that world.
What we think of as fanfiction in the modern day owes its roots to the Star Trek fanzines of the 1960s, but fanfiction, at its core, has been around as long as humanity has been telling stories. Any time a fairy tale is rewritten – I'm looking at you, Disney – that's fanfiction (or fanwork, if you want to get technical about semantics). Same with pretty much every modern story about Arthur and Merlin, Robin Hood, Sherlock Holmes, or any time someone writes a story about any religious figures (be they modern religions, or those that have come to be termed 'pagan'). I don't really have the space to cover every piece that could be considered fanfiction in this post, but here's an awesome LiveJournal post that does it for me.
But, okay, what does any of this have to do with someone who's already published something? Or, better yet, what should you do if someone starts writing fanfiction about your world?
For the latter, I'd say: Be flattered. Maybe that person loved your work and wants to explore what they think will happen after your book ended, or the character backstories that you might have only hinted at. Maybe there were a couple of background characters that were throw-aways to you, but this person fell in love with them and wanted their stories. Or maybe they found your story flawed – sounds bad, I know – and they felt the need to fix something. Maybe you killed off a character and they spent an hour crying, then set out to write a 'fix-it', or they didn't like who you paired your main character with, thought they'd get more out of a romance with someone you'd just intended to be their friend.
Mostly, if someone starts writing fanfiction of your work, that means your world is stuck in their head, for good or ill. It's a good bet that they've already shared your book with their close friends and family. Maybe they've made a blog post about it online somewhere, or maybe the fanfiction is their 'blog post'.
The point is, when someone writes fanfiction about something and puts it up for the world to find, that's their way of sharing something that touched them, on some level. In their own way, they've become your publicist, and all they're asking, in return, is the right to show how much they love your world in their own way.
So, you might now ask, "Can I write fanfiction? What are the legal implications and can I make money off it?"
Anyone can write fanfiction. If you love a world and wrote something for it, you're a fanfiction writer. Congratulations! If you want to share it with other people, there are plenty of places you can do that. The big name sites for posting stuff are FanFiction.Net and Archive of Our Own, but there are plenty of other sites, most of them world-specific. And you can always post a piece on your own blog or website, if that's more comfortable.
For the tricky stuff…
Any fanwork – fanfiction, fanart, fan-made videos, etc. – technically fall under that wide umbrella of 'fair use'. Which means that you can post them, so long as you don't claim the origin world as your own and you don't try making money off of it without the creator's explicit permission. Amazon's Kindle Worlds program is one such legal path to make money off fanfiction, but the worlds they have access to are very limited. There is a bit of a precedent, too, for writing a story as fanfiction, then changing the names – and, sometimes, the genders – of your characters to turn that work into original fiction, and then publish it. (Pro-tip: Best not to mention E.L. James in conjunction with this idea, unless you're looking for a rant.) So there are ways to make money off fanfiction, certainly, but not many; in terms of money-making ventures, the best that writing fanfiction will get you is a new audience that might not have otherwise heard of your original work.
Sometimes people get sued, yes, but there are resources to help you fight that, like the legal team at the Organisation for Transformative Works (the non-profit that started Archive of Our Own). Some fanfiction writers add a general disclaimer to the beginning or end of all their works, as an added security, but there's no hard-and-fast rule about what will or won't protect you from legal prosecution, and country borders add their own complications to the equation.
The right to create, as fans, works based off of another's world is likely going to be up for debate for a long, long time, but if you love something enough to write about it – be that as fanfiction or an original piece – I say, 'Go for it!'
---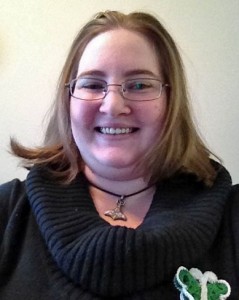 Kat Cantwell is the eldest daughter of and editor for author and IU Staff Contributor Lynne Cantwell. She graduated from Hollins University with a Bachelor's Degree in English, with a concentration in Creative Writing. Kat has followed in her mother's footsteps by writing fiction, but has so far stuck to fanfiction for various mainstream "geeky" media, including Harry Potter, the Marvel Cinematic Universe, and the Final Fantasy video game series. She has been volunteering with Archive of Our Own since 2012, sells crocheted goodies at her Etsy shop Kat Hooks, and spends holidays watching her neighbors' cats.