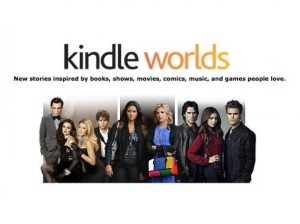 I would love to be a fly on the wall at Amazon when they devise new programs like Kindle Worlds. They are capitalists to the core, and I'm not saying this is a bad thing. If there is a way to make a profit in the changing digital landscape they will figure it out.
Kindle Worlds is Amazon's answer to the unsated need for quality fan fiction. Fan fiction, a written piece of work not officially sanctioned by the original creators, is tremendously popular. On the site http://www.fanfiction.net there are hundreds of communities where the obsessed fans can share their stories. The site http://harrypotterfanfiction.com contains over 80,000 stories about the world of Harry, Hogwarts, etc. The fan fiction movement has been growing at a rapid pace and the time was ripe for Amazon to come up with a way to cash in on the trend.
Here is part of the official press announcement:
SEATTLE—(NASDAQ: AMZN)—May 22, 2013—Today, Amazon Publishing announces Kindle Worlds, the first commercial publishing platform that will enable any writer to create fan fiction based on a range of original stories and characters and earn royalties for doing so. Amazon Publishing has secured licenses from Warner Bros. Television Group's Alloy Entertainment division for its New York Times best-selling book series Gossip Girl, by Cecily von Ziegesar; Pretty Little Liars, by Sara Shepard; and Vampire Diaries, by L.J. Smith; and plans to announce more licenses soon. Through these licenses, Kindle Worlds will allow any writer to publish authorized stories inspired by these popular Worlds and make them available for readers to purchase in the Kindle Store.
Amazon Publishing will pay royalties to both the rights holders of the Worlds and the author. The standard author's royalty rate (for works of at least 10,000 words) will be 35% of net revenue. As with all titles from Amazon Publishing, Kindle Worlds will base net revenue off of sales price—rather than the lower, industry standard of wholesale price—and royalties will be paid monthly.
In addition, with the launch of Kindle Worlds, Amazon Publishing will pilot an experimental new program for particularly short works—between 5,000 and 10,000 words. For these short stories—typically priced under one dollar—Amazon will pay the royalties for the World's rights holder and pay authors a digital royalty of 20%.
Beginning today, interested writers are encouraged to visit Kindle Worlds (https://kindleworlds.amazon.com/) to learn more and get a head start on writing. In June, the Kindle Worlds store is expected to launch with over 50 commissioned works from authors such as #1 New York Times best-selling author Barbara Freethy, Bram Stoker Award-winner John Everson and RITA Award-winner Colleen Thompson. At that time, the Kindle Worlds self-service submission platform, where any writer can submit completed work, will also open.
The Kindle Worlds site is easily navigable, but I was disappointed to see the available choices. I have never watched these TV shows. I was hoping for Dallas, The Odd Couple, or Knots Landing. More importantly, take your time reading the publication agreement before shifting your focus away from your current projects. Here are a few items that caught my eye.
The story you write must be over 10,000 words to be considered for compensation. Although you own the copyright to your story, Amazon can promote it and use it in any way it likes, including any original characters or places you have created within your story. (See 4b) You cannot share more than 20% of the story on your blog or website. Amazon reserves the right to control all marketing and promotion. You cannot promote yourself as a writer for the Kindle Original World, affiliates, a specific franchise or for Amazon.
What is the worst thing that can happen if you enter Kindle Worlds? Let's imagine that you write a stellar short story that receives thousands of downloads, and you wait sixty days for the payout. The producers of the TV show decide to make your story with its new characters into an episode, and they do not give you a by-line. The critically acclaimed episode receives an Emmy nomination and you are not invited to the awards ceremony. You do not get to wear a fabulous gown and jewelry and walk the red carpet next to Ian Somerhalder.
There is another scenario. The excellent piece of fan fiction you've written gets thousands of downloads, and you pocket a nice profit. Readers look for other work you have published. A producer from the TV show you wrote about calls and asks you to come up with other story lines. A famous New York agent reads your story and asks, "What else do you have?" You sign a ridiculously lucrative contract, retain digital rights of your work, and are flown to Hollywood where Harvey Weinstein wines and dines you. Your project with Mr. Weinstein receives an Academy Award nomination, and you get to wear a Marchesa gown on the red carpet. Does this scenario sound far-fetched? It isn't. You have entered Lois' World, where all talented, hard-working authors achieve their dreams. Good luck and have fun.