A few weeks back, we had a guest post by Kat Cantwell about the ins and outs of writing fanfiction. Now we have word of a cautionary tale that fanfiction writers – in fact, all sorts of writers – might do well to heed.
Trad-pubbed urban fantasy author Sherrilyn Kenyon has filed suit in U.S. District Court in Tennessee against fellow author Cassandra Clare. Kenyon's complaint alleges Clare's "Shadowhunter" series infringes on the copyrights and trademarks associated with Kenyon's "Dark-Hunter" series. Kenyon says she learned of the infringement from her fans, and that when she spoke to Clare about it, Clare promised to change her work so that there would be no infringement. What Clare did was to change the term for her demon-fighting warriors from "darkhunter" to "shadowhunter" – and then proceeded to use the new term extensively in promoting her series.
Kenyon's court filing includes examples of each series' distinctive symbol – a stylized version of the same Norse rune. Kenyon says Clare's symbol is so much like her own that Clare's publisher accidentally put Kenyon's symbol on the cover of 100,000 copies of one of Clare's books. Here are the symbols, side by side – Clare's Shadowhunter symbol on the left, and Kenyon's Dark-Hunter mark on the right.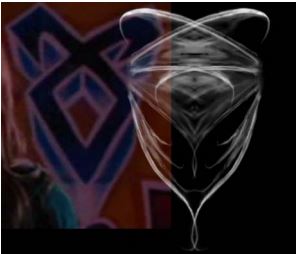 But there's more. Kenyon's complaint includes a point-by-point comparison of major characters in the two series, and what they have in common. It's clear from a reading of the complaint that Kenyon wants the court to dismantle Clare's publishing empire and put her rival out of business.
Some observers have suggested Kenyon may have been prompted to file the suit because Clare's series has been turned into a movie ("The Mortal Instruments") and a TV show, while Kenyon's books have not. But this isn't the first time Clare has been accused of appropriating others' intellectual property; in June 2001, she was banned from Fanfiction.net for lifting extensive excerpts from an out-of-print fantasy novel and including them without attribution in her Harry Potter fanfic, The Draco Trilogy.
Kenyon's suit was filed last Friday. Clare has not yet responded, so we don't know her side yet. (Under the court's rules, she still has plenty of time to do so.) It's highly likely that some of the alleged copyright infringement – things like the style of her book covers – could be attributed to Clare's publishers' marketing decisions. Don't we indie authors study book covers in our own genres to see what sells, and imitate it? Publishers do the same thing.
Also, many of the similarities Kenyon relies on are essentially literary tropes, and fantasy tropes in particular. Lots of authors have written books about specially talented humans who kill demons in order to protect humanity. Just about every fantasy novel I've ever read features a magic sword – often several. And the idea of an elixir in a special cup goes back at least as far as the Holy Grail.
This isn't the first time an author has been called out for plagiarism. It's widely known that E.L. James first wrote Fifty Shades of Grey as Twilight fanfiction, and many readers of James's story in its original incarnation have said the only thing she changed was the names. Going farther back, Twentieth Century Fox filed suit in 1978 claiming "Battlestar Galactica" infringed on its "Star Wars" copyrights. That lawsuit was settled out of court – but it took four years to get there.
What's the moral of the story for indie authors? If you're emulating another author's style, be sure to make your work different enough from the original work that you won't be sued. And never, ever try to pass off someone else's work as your own.