When I went to my Shelfari landing page last week to update the widget I use on my blog, I saw an ominous notice: Shelfari is shutting down.

The news won't be a surprise to those who know that Amazon has owned both Shelfari and Goodreads for the past few years. Goodreads is by far the more popular of the two sites, so it stands to reason that Amazon would consolidate its reader experience (not to mention reader data) there. But a number of readers, authors, and bloggers closed their Goodreads accounts and fled to Shelfari during the Goodreads Bullies incident a few years ago; I can't imagine they will be thrilled to have their information dumped back onto Goodreads.
Amazon intends to complete the merger by March 16th. If you want to read about it in more detail, just log in to your account and click on "Learn More" in that banner across the top, featured in the screen capture above. You have the option of moving your books to Goodreads sooner, or you can download your information into a .csv file for your records – or for uploading to another, similar site. (Although the only ones that come to mind are LibraryThing – which is partly owned by Amazon, so who knows how long it will last? – and BookLikes.)
For those who have accounts on both Shelfari and Goodreads, you should know that Amazon does not intend to overwrite your Goodreads data with your Shelfari data, or vice versa. There's a chart in the Shelfari FAQ (it seems you must be logged in to see this) that explains how Shelfari tags will work at Goodreads. Shelfari favorites and wishlists imported to Goodreads will get special tags identifying them as originating on Shelfari.
For those of you – the few, the proud – who are using a Shelfari widget on your blog or website, Goodreads has some replacements that might suit:
* If you want to show folks what you're reading, log into Goodreads and go to the upper right-hand corner of your landing page. Click the drop-down arrow, and click Edit Profile in the box. I've highlighted it in yellow here.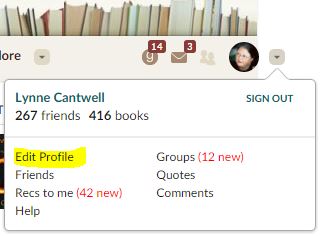 On the next page, look on the line under Account Settings for "Widget". Click that, and you'll come to a page where you can create various types of widgets, from an e-mail signature to a customized widget that features the last several books you've rated.
* If instead you want to show your own books, go to your Author Dashboard. On the right-hand side, you'll see a heading for Author Widgets. Again, I've highlighted it in yellow.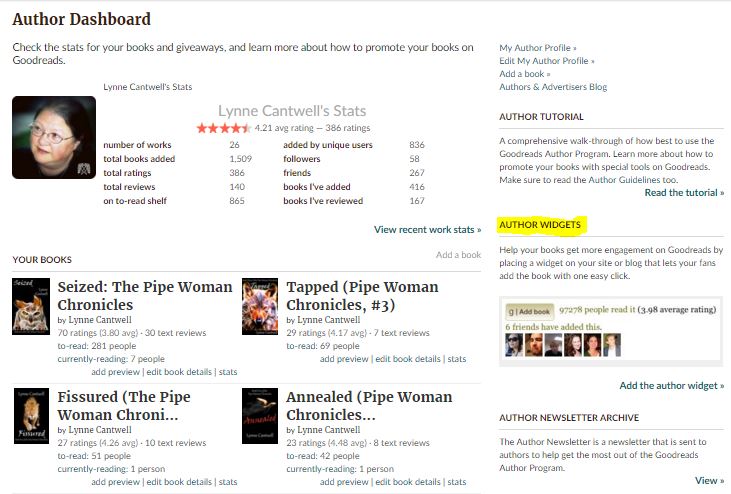 Clicking that will take you to a page where you can configure several types of widgets specific to your book or books – from a simple button, to a summary of reviews for one of your books, to a clickable list of Goodreads listings for as many of your books as you'd like to include.
While Amazon is spiffing up its reader experience, maybe we ought to petition for some improvements at Goodreads. We minions talked about it around the gruel pot the other day.  Laurie Boris thought it would be cool to have a Goodreads button on Amazon's book pages, so you could add a book to your to-read shelf while shopping. I'd like for Goodreads to streamline their process for updating book covers: either allow authors to upload them without having to ask a librarian to do it, or set things up at Amazon so that new covers get uploaded to Goodreads automatically.
What's on your Goodreads wish list?