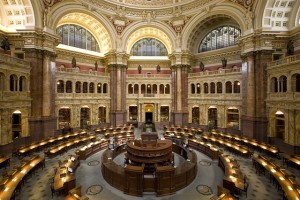 You're a self-published author, and someone has suggested you get yourself an LCCN. You've never heard of an LCCN and are wondering if maybe you need to find out more. Well, this is your stop. We're talking LCCNs today.
First off, what are they? LCCN stands for Library of Congress Control Number. It's a unique identifier issued by the Library of Congress (LOC) to books that get included in their collection. Some people desire this number because librarians across the nation and the world tend to catalog their books using the LCCN number. There is only one LCCN per book, whereas each edition of a book requires a new ISBN (eBook, paperback, hardback, special editions), and will likely have multiple ISBNs.
If it sounds appealing, how do you get one? Well, the LOC has two programs which issue LCCNs: The Catalog in Publication (CIP) Program and the Pre-Assigned Control Number (PCN) Program. The CIP Program is open to big publishers who are pre-approved to submit books to the LOC. The LOC produces a set of information called the "CIP Data Block" that is printed in the front of each book (it includes the LCCN, Dewey decimal system subject headings, author name, and other types of information librarians use to catalog books).
The PCN program is open to self-publishers and small presses. The LCCN must be applied for prior to the book being published. Some Print-on-Demand Publishers, such as CreateSpace, will request an LCCN for you. The main difference between the PCN-assigned LCCNs and the CIP LCCNs is whether the book receiving it is accepted into the Library of Congress collection.
Almost all CIP books are accepted by LOC. PCN books must be sent to the LOC staff, who review them and determine if the LOC will accept them into the collection. However, the percentage of books accepted through the PCN Program might surprise you. IU caught up with Caroline Saccucci, Dewey Section Head and Program Manager and Acting CIP Program Manager, to discuss some changes made to the CIP Data Block. During our conversation, she noted that odds are better than 50-50 for self-published books being taken into the LOC collection.
"We add 60 percent to our collection," said Saccucci, who took a quick peek at acceptance rates for PCN books.
Specifically, she noted that the LOC is trying to get a wide range of material. "There's a whole gamut of stuff that we accept," Saccucci said. "There are a lot of things we collect for scope: local history, genealogical stuff, stuff that small presses would produce. Wiley isn't going to do a local history of a small town."
The LOC is the nation's library, tasked with preserving an account of the nation, and they take that part of the job seriously. "We have two selection officers that go through and decide what we can keep. They try to think holistically in every subject area."
So, depending on the subject matter, a self-published or small-press book could fall into just the niche the library is looking for. Back in October, the LOC made a few changes to the CIP Data Block to improve the process, and has been trying to get the word out. "The biggest change is we streamlined it for publishers," Saccucci said. "Those applying for print and eBook can get one data block, so that was a huge improvement." She noted that previously publishers received different data blocks for print and eBooks, but because most use the same file for publishing (sound familiar?), eBooks often ended up getting published with the print data block or vice versa. That won't happen under the new system.
The changes, however, don't affect the PCN program, which does not deal with eBooks. "Right now, eBooks are not part of the PCN program," Saccucci said.
The one thing to note with the PCN program is that when you apply for an LCCN through that program, you are assigned a number. You may even place that number in your book when it's published. However, that number will only appear in the official LOC catalog (the one librarians get), if the LOC decides to accept your book for deposit. Unfortunately, if they reject your book, you might as well not have an LCCN number.
"Once the book comes in and the selection officer says we want to keep it, it will become fully catalogued. You will be able to search it anywhere," Saccucci said. "If it is not selected, it goes to the surplus book program. The bibliographic record is maintained, but suppressed."
What does suppressed mean? Well, the internal system for employees can find it, but it won't show up in the catalog available to librarians nationwide. If, for some reason, the library changes its mind (perhaps your work blows up and you become this generation's Mark Twain) and they want the book for the main catalog, they could simply move the record from suppressed to the active list. But, I suspect the odds on that are incredibly slim.