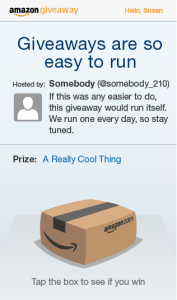 About a year ago, Amazon instituted a cool feature that allowed anybody who sold anything on Amazon to set up a giveaway on the product page. Unfortunately for indie authors, digital content wasn't one of the things you could give away. That meant you could set up a contest for free hard copies of your book, but you couldn't do it for eBooks.
That's now changed. Last week, KDP announced eBooks may now be used as prizes in Amazon Giveaways. As usual, the Zon is rolling this out to Amazon.com (US) first. So right now, contestants must be residents of one of the fifty U.S. states or the District of Columbia. The person running the contest must have a valid Amazon.com account and a credit card with room to pay for the prizes to be given away. (Yes, sorry, you need to pay for the prizes upfront.) That would seem to indicate that non-U.S. residents can set up a giveaway, but I'm not 100% sure; in any case, your pool of winners is going to be limited to U.S. residents.
This FAQ has the fine print. But basically, you go to the prize's product page, scroll waaaaaay down (past the reviews, even), and look for this button.

That opens a wizard where you set up your giveaway. You can pick the number of items you're giving away (up to 50 eBooks!) and how (first X entrants, one of every X entrants, etc.), as well as what people have to do to enter. One thing you can have them do is follow your Amazon Author page (you do have one of those, right? We just had a follow-fest for them yesterday!); the other options are following you on Twitter or watching a YouTube video that you've chosen for them.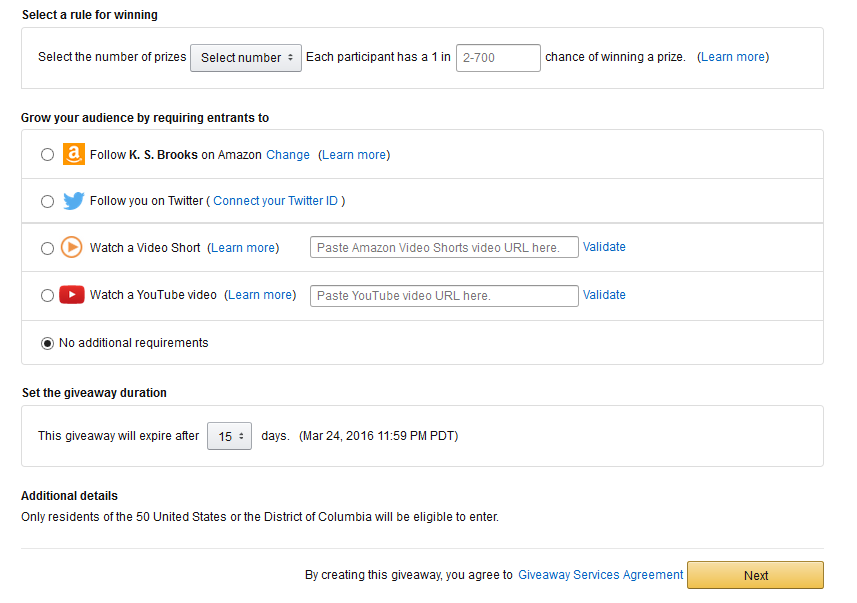 (One thing I would recommend is to avoid the "first X entrants" option for awarding prizes. When the print-book giveaway feature was rolled out last year, I seem to recall authors saying the contest was barely open before their prizes were all gone. Let's make these potential readers work for that prize!)
Once you've done all that, you pay for the prizes. Shortly thereafter, Amazon will send you an email with a link to your giveaway – which you are then free to share on social media, email to your newsletter subscribers, and post wherever else you like.
The Zon takes care of all the prize distribution and shipping. But what if you end up with some prizes unclaimed? For physical items like dead-tree copies of your book, Amazon will return the unclaimed items to its stock and give you a refund. For eBooks, you have a choice: you can download them and figure out another way to distribute them, or you can roll them over into a new Amazon Giveaway.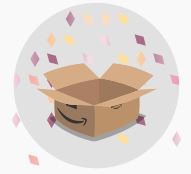 Don't worry about an eager contestant stuffing your giveaway box; the Zon will allow only one entry per Amazon.com account.
What if you screw up your contest listing? If you've had no entrants, you can cancel your Amazon Giveaway and create a new one. But if anyone has entered, you'll have to let the thing play out.
That's pretty much the gist of it. I'd add only that this looks to be a test of sorts for the Zon. Right now, eBooks are the only digital content that can be used as an Amazon Giveaway prize. I think, if all goes well, the concept might spread to music and software – and even maybe (fingers crossed…) to other countries.