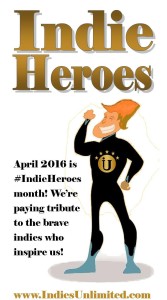 It's hard to believe that it's been a year since we began our #PublishingFoul coverage. At this point in 2015, we were just about to kick off our series about vanity presses and scammers, how authors could avoid falling prey to one, and what to do if you already have. We've archived all of those posts, by the way; you can find them by clicking here.
Now here we are, with April 2016 just a day away. And this year we're doing something different. Instead of pointing out publishing's bad guys, we're going to make stars of the good guys – our #IndieHeroes.
If you hang around any group of indie authors, you'll eventually hear some of the same names mentioned. Many of them have made the bestseller lists – and we're not talking about an Amazon #1 Bestseller in the category of Armenian Hobo Wrestling or something, either. Some of them are hybrid authors, with both traditional and indie titles in their bibliographies. And some may still be scrabbling in the indie-author mosh pit. But what they have in common is their ability to inspire us – and, in many cases, their willingness to help other authors.
The IU minions have spent the past couple of weeks making a list of our own Indie Heroes. Next month, we'll be sharing that list with you. Some of our heroes will be familiar to you; some, you may be learning about for the first time. Either way, we hope our posts will inspire you – to keep going when you're discouraged, and to help other indies who might now be in a spot where you once were.
We'd love to hear from you, too. Which indie authors inspire you? Who is your #IndieHero? Let us know in the comments.