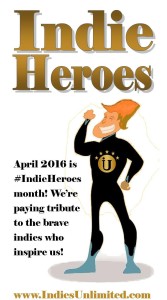 It's not often that you run into someone who makes a profound impression on you. Let alone someone who might see you as competition. But that's not how my friend Blaze McRob operates. He's sincere, funny, and pretty darned honest when it comes to the craft. I met him way back in 2010 when I was looking for someone to give me an honest opinion on a supernatural thriller/horror novel I was working on. After finding him on a horror author Facebook page, I messaged him and asked if he'd look my over book and see if I was even on the right track (since I'd never written horror). To my delight, he agreed, read it, and thoroughly enjoyed it.
That one novel started a long friendship which has even spanned to a working relationship. For the last six years, he's been friend, confidant, mentor, and a fellow veteran who I can share my triumphs and failures with. When IU came up with the idea for articles on author/mentors, I was more than happy to send Blaze some questions which I hope you find interesting. He's had a LONG history of writing and certainly a fascinating one. So without further ado, let's get to know Blaze McRob:
Kathy: How old were you when you first discovered your love of writing?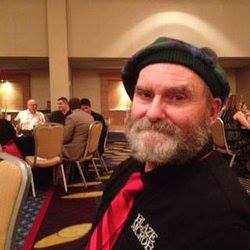 Blaze: I've been writing since the age of nine. Nothing I wrote was short. They were all novel length. I won't say they were perfectly edited, but the stories were good ones, I feel. I had a horrible stutter then and writing was my way of getting my thoughts across, at least to myself. I never did show anyone my work at the time. I felt that there was no reason to share with others. My earlier works are now being re-written and edited and will become novels, thanks to my near-perfect memory.
Kathy: Why are you drawn to the horror genre?
Blaze: Horror represents the truth to me. I am a pessimist at heart and don't care for flowery tripe that paints a picture of Nirvana where none exists. That doesn't mean I don't hold a glimmer of hope in my heart that humanity will wise up. I just haven't seen a lot of it.
Kathy: Have you always written under your name or have you used pen names or ghost written?
Blaze: I was a ghostwriter for many years and wrote some seventy-five novels with other authors' names on them. Now, I am doing everything under my current Blaze McRob brand. People can write their own stories now.
Kathy: What types of things inspire your stories?
Blaze: Real life inspires me the most. My horror is mainly of a psychological nature. There is plenty to find in this world of ours, past and present. Dreams are also a great source of story fodder for me. When I sleep, I settle into a non-stop dream world, a sort of theater of the mind.
Kathy: Why did you decide to go indie publishing?
Blaze: I like the control. My wife, Terri DelCampo, and I do everything. We edit for each other; Terri formats and does art; and I do the marketing. That works out well. The only thing we pay for are our book trailers, which we do for all of our books now. Beverly Cialone does those for us at a great price.
Kathy: Who is your favorite author(s)?
Blaze: I love many authors, but I married my favorite author. Terri DelCampo. She has a great literary styling. Next to Terri, I strive to be my next favorite author. I'm not sure if and when I'll hit that mark, but I certainly want to put out some books that readers will enjoy.
Kathy: Have any of your stories been made (or optioned) into movies?
Blaze: Yes, I have had a number made into movies, both TV and big-screen, and some optioned, as well. I view it as an interesting side-journey associated with writing.
Kathy: If you had to pick a favorite book or story you've written, what would it be?
Blaze: So far, I would have to say Ghost No More, a rather unusual horror novel where the end days are not what people expect at all. And the heroes are not who anyone thinks should fill the job. This is a good versus bad novel where white and black are blurred.
Kathy: What advice would you give to fledgling authors?
Blaze: Learn the craft: punctuation, sentence structure, flow, no boring back-story told at the beginning that goes on forever. Edit your work until it's great, then have a real editor edit it. No one can edit their own work. Make certain your formatting and cover art are great. If you don't have money for these things and want to put your book out anyway, you're a fool. Don't publish garbage. Sometimes it's possible to barter for services. Maybe you have art skills and can do cover art for an author who's a good editor as well. That sort of thing. But make certain you're dealing with professionals.
Kathy: Where do you see yourself in 5 years?
Blaze: Still writing novels, and selling the buggers. That's what authors do, isn't it?
---
And there you have it, folks, a short interview with my mentor, Blaze McRob. Had it not been for him, I probably wouldn't have as many books published today as I do. Mentors are there to provide feedback and sometimes little nudges to get you going in the right direction. If you have the opportunity and find a good mentor, count yourself lucky because they have the power to help your writing career grow.