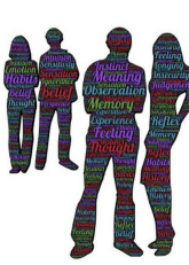 Writers are well aware of the value of observation for giving us the details we need to make our settings come alive, for rounding out our characters by giving them habits or for providing details in our descriptions that help identify them. Today I'd like to take a closer look at a specific form of observation – listening – as apart from merely observing. As writers we can use less obvious aspects of listening to deepen our understanding of our characters and their relationships to each other.
Experts tell us that only 20% (others say 10%) of verbal communication comes from the actual words used. Let's examine the remaining 80% of face-to-face communication. One obvious benefit of doing this is for writing dialogue. As we listen to, or even participate in conversations, we can observe cues to meaning not contained in the words. The easiest aspects to spot are volume, tone, and pitch, which give us the first clues as to the state of mind of the speaker. 
Volume, tone, and pitch can indicate excitement, anger or a need to be heard over other noise. But there are more subtle cues we can take from them. Is the person using higher volume hard of hearing, making an attempt to silence another or achieve dominance, or is he/she just socially unaware?? We can only determine which by listening more carefully. When and how does the voice rise and fall, what facial expression accompanies it, what body language accompanies it? Fear or excitement often results in higher pitch. Deeper tones combined with greater volume can suggest anger. Especially when accompanied by a lack of variation, deeper tones can demonstrate a desire to control. We've all heard the "Do as I say, or else," kind of statements. They come out as a monotone growl, which makes them more menacing.
Low volume can indicate shyness, submission, politeness – but also fear, anxiety, or depression. Which one can only be determined by assessing the more subtle cues. What is the position of the head, the shoulders, the distance from the other speaker, the movement of the eyes? Lower, soft tones may indicate desire, secrecy, or suspicion.
These details are all valuable in creating dialogue that resonates with readers, and enriches their experience. It helps them hear exactly what you want them to.
But what can we learn from listening when not participating directly in the dialogue? What can we learn from listening when we cannot hear, or even do not understand the words? What about the parts of listening done with our eyes instead of our ears? Yes, you read right. There are so many minute details we can observe when we watch others in conversation with each other: changes in facial expression, tics, hand movements, the rise and fall of eyebrows, minute nods or shakes of the head – all motions the speaker is unaware of. Occasionally we will catch just one word. Why is it louder than the rest? What else can we see that hints at the mood of the speaker, the relationship between speaker and listener? What effects do the changes in the speaker have on the listener?
What if we can hear, but the language is foreign? Are there cultural clues that hamper or help us determine what's going on? Eavesdropping can teach us so much. Etiquette be darned!
And, what if we cannot see the participants? The blind may not be able to use the visual cues in listening but the rest of us can.
Come to think of it, that might be a great exercise for writers. Listen in the dark, or with our eyes closed, and learn to recognize the clues the sighted take for granted. Eavesdrop on the patrons at the table behind you in a restaurant, or anywhere else for that matter, where you can't see who's talking. What about telephone conversations, even when you can only hear one end? What clues can you glean that inform you about that conversation?
The traits I have listed here only scratch the surface. By practicing the skill of listening from the viewpoint of a writer, the descriptors will become infinite. Every nuance becomes grist for the pen, or in my case, the keyboard. By paying attention to these subtle details, both our dialogue and our descriptions will be richer and give our audience a fuller picture. Listen actively – with both your ears and your eyes. Don't only be a people watcher, be a people listener.