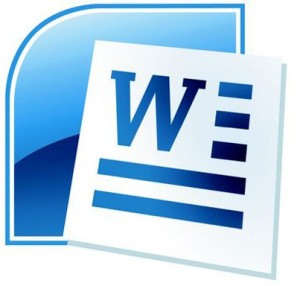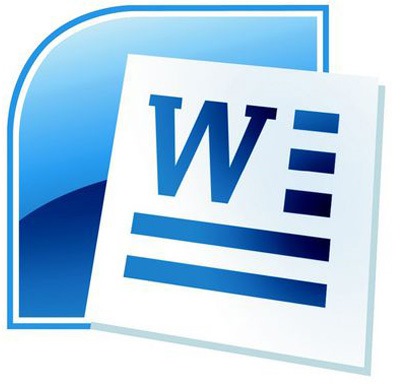 There's an ongoing debate on the Kindle Direct Publishing forum regarding formatting and uploading eBooks in Microsoft Word. Some believe it can't be done. Others insist it can. I'm on the "can" side of the debate. The key is in making sure your document is free of any hidden code, markups, page breaks, etc.
Today, I'll take you through clearing your manuscript of anything hidden that will cause problems during the conversion process once uploaded KDP.
A couple of things to know before starting: First, the default font displayed on older Kindle devices is Caecilia, and on newer ones is Bookerly. If you try to get too fancy with your font, it may not be recognized on some Kindle devices. If that happens, you'll end up with some sort of placeholder such as a box or a question mark. While it's possible to embed special fonts, embedded fonts result in a much larger file size (meaning a larger delivery fee).
For that reason, it's best to stick to common fonts for eBooks. Many of the formatting gurus on various writing forums suggest Times New Roman, and that's what I use.
Another point: Kindle tends to rebel when font goes above size 18. I stick to 14 for my headings, which is plenty large enough in the finished product.
Finally: If you have a manuscript that's been copy/pasted together, emailed back and forth, edited, saved to and worked on in various devices, you've no doubt got hidden code and other items that'll throw your formatting off when uploaded. Maybe you just got your manuscript back from your editor, and her mark-ups are showing. You've chosen to accept the changes, but her notes continue to show up every time you open the document. Or maybe there's a header, footer, or page numbers you've tried to delete, but it's still there.
There are multiple ways of doing things in Word, including stripping out hidden items. One way is to copy/paste the entire manuscript into Notepad. If you have Microsoft Windows, you also have Notepad, although you might have to dig through your apps to find it.
A note about Notepad: it strips headers and footers, but leaves the words in, so you might randomly have the words "page one" or "Melinda's manuscript" scattered throughout your document. I've also noticed it doesn't always get rid of hidden page breaks. For those reasons, I tend to bypass Notepad and do the following (also known as the NUCLEAR option):
1. First, save a copy of your document.
2. Open your copy (we're working from the copy, just to be safe) and from the "Home" page go to the dropdown menu by "Select" (red arrow below), and choose "Select All."

3. From the "Home" page, click on the tiny dropdown arrow under "Change Styles" and select "Clear All" (red arrow below).

This will clear all of your formatting, and will also get rid of hidden code that makes the manuscript go bonkers during the conversion process when uploaded to KDP.
For removing headers, footers, and markups, click on "File." See the section to the right that says "Information about [your file name]"? Click on "Check for Issues" and then "Inspect Document" (red arrow below).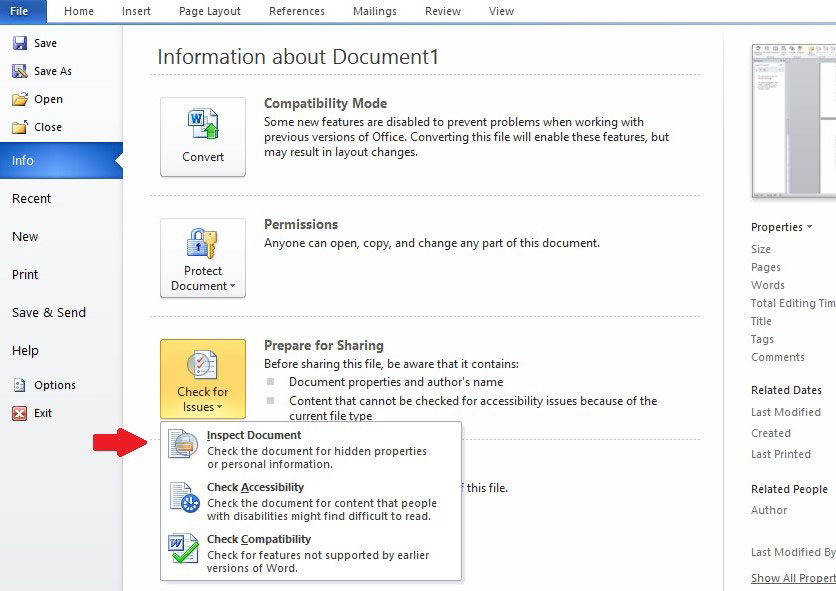 You'll be prompted to save your document, and then you'll be presented with a list of things to check, including headers, footers, and editing comments. I check them all. After a quick scan, you'll be presented with all issues found, and asked if you want to have them removed. I remove them all.
Maybe there are a couple of random extra pages you can't get rid of. You've backspaced and deleted, but the pages remain. This means you have a page or section break inserted that needs to come out.
From "View" up on the toolbar, check "Navigation Pane." (red arrow below). This will bring up a search box that has an arrow beside it (blue arrow below). Click on that, and select "Advanced Find."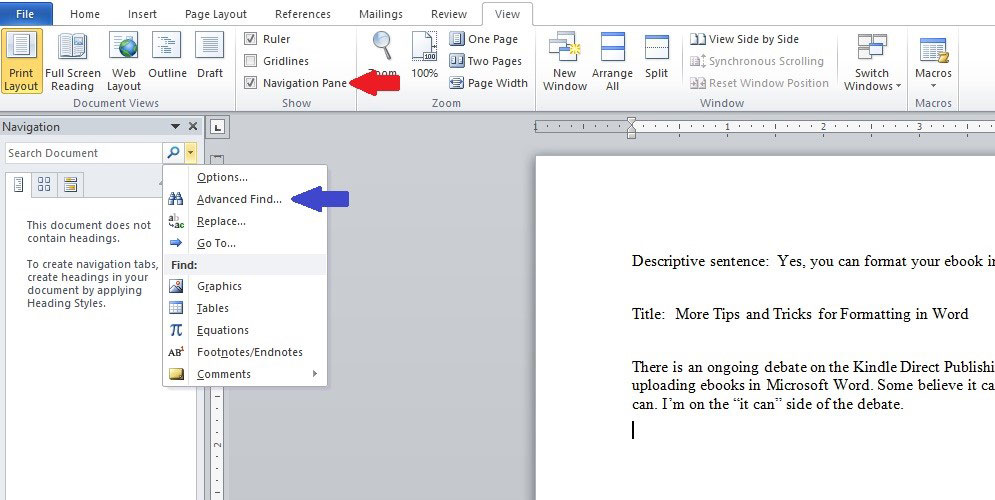 That brings up another box. Click "More" (red arrow below)

Select "Special" (red arrow below) and "Section Break" (blue arrow below).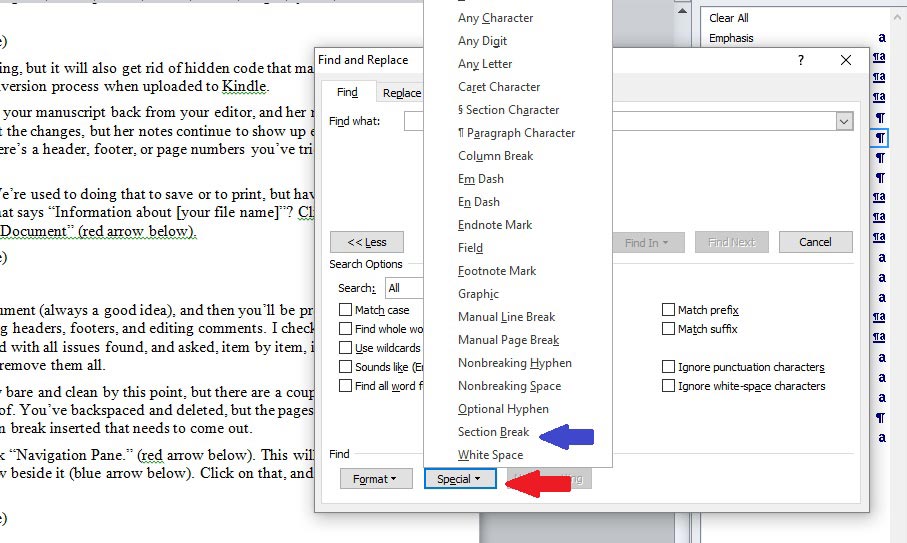 Each section break will then be highlighted in your document, and you can delete as needed. Once that's done, select "Manual Page Break" from the same dropdown menu and find any hidden page breaks you didn't mean to have.
Now you've got a clean document ready to be formatted for Kindle, (which I'll get to in my next post!).