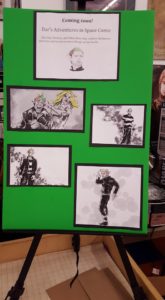 Face it, most Indie authors are strapped for cash. We can't always afford to put out hundreds to thousands of dollars for promotions. We need quick, easy, and preferably FREE. So here's one way I managed to sell a few books, had a fun time, made a few contacts, and became a more accessible part of the local community.
I don't have any comic books, but I'm in the process of working with an illustrator to create one. (see: IU post) But that didn't stop me from going to a local comic book store and inquiring if they had any upcoming events where I could set up a table and sell books. The owner was very cool — especially when I told him I was working on a comic, and said there was going to be National Free Comic Book Day in May (May 7th it was). The store was going to be hosting an event that ran from 7 a.m. to 10 p.m. and I could set up and try to create interest in my books. Yes!
Very pleased with a free venue, I contacted my illustrator to see if he had some images I could print out and put up on a board advertising the forthcoming comic. At the time, he didn't, but he got pretty busy one weekend and sent me enough to create a teaser.
Since I still had a decent stack of books and promo stuff from the Lexington Comic Con, I didn't need to invest money in that. I did, however, fork out about $8 for the fancy green board and construction paper that I affixed the pictures to. Of course, that display will be reused again.
I rolled in about 10 a.m. and the manager had a large table in the back (right next to the big piles of free comics) for me. I had everything ready to go in a matter of minutes. My first sale wasn't for about an hour, when the manager came back to see what I had to offer. Yup, he went home with a copy of my new release! And that set the stage for several more hours of chatting with people, selling books, and even getting free pizza for lunch.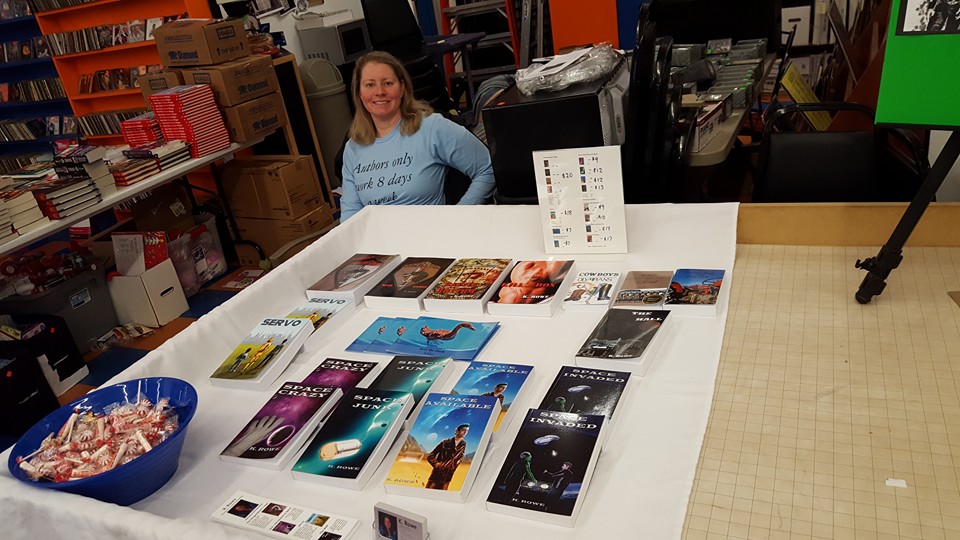 Free venues can be a crapshoot. Since I've done so many, I learned not to get my hopes up. A good day might result in the sale of ONE book, but, if you've handed out business cards, bookmarks, and talked to people, consider that a win. Getting your name out there and helping folks find your books is probably the best publicity you can get. You'd be surprised at how many people were pleased to hear about a new local author. And they LOVED the comic teaser board.
At the end of the day, I sold 5 books, made $63, and got to know a lot of people and their reading preferences. Many went home with bookmarks that had loads of info and buy links because they preferred eBooks. I made mention to some that I'm going to do the Derby City Comic Con in June and they said they'd look for me.
So if you're looking for free promos, think outside the literary box. I've had fantastic signings at local wineries, libraries, and even a swap meets and yard sales! Anywhere you can legally set up (yes, get permission before you do!), you can sell books. The venue doesn't necessarily have to be book-related, but of course that does help. Just finding a place where there's lots of people will be a big help in getting your name out there.