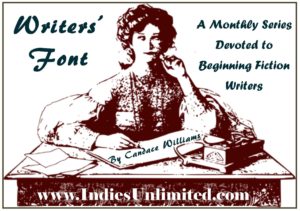 In June, we looked at the most common Points-of-View used in fiction today: First Person, Third-Person Limited, and Third-Person Omniscient. In July, we examined some pitfalls to avoid in mastering POV.
Now let's look at two POVs that aren't so commonly used in fiction:
The Second Person POV allows the author (or a fictional character) to speak directly to the reader. Today it's used almost exclusively in nonfiction. You're likely to find it in speeches and how-to articles (like this one.) Its pronouns are you, yours, and yourself. In fiction, you'll sometimes see it in children's books. (Addressing the reader directly in other POVs is known as "breaking the fourth wall.")
[This article has been updated to include verbiage more thoroughly explaining the use of Second Person POV in fiction writing.]
With thanks to Rick Taubold, I should have realized that there's a distinction between Second Person POV in fiction and non-fiction. "Second Person POV [in fiction] has nothing to do with who is being addressed, but with who is narrating." Jay McInerney's Bright Lights, Big City is written in this POV:
You are not the kind of guy who would be at a place like this at this time of the morning. But here you are, and you cannot say that the terrain is entirely unfamiliar, although the details are fuzzy. [Ch. 1, 1st sentence]
The narrator is telling the story using the "you" pronouns (you, your, and yours.) The effect is to involve the reader as a character in the story. It's extremely difficult to pull off, but wonderfully effective for putting the reader into the story!
The Omniscient POV is written from the viewpoint of an all-seeing, all-knowing narrator with knowledge of everything that's happening in the story from any character's viewpoint, including their feelings and motivations, and it knows the history of the setting, the characters' family histories, and even future events (after all, the omniscient narrator knows the end of the story.)
At first it may seem best to use omniscient POV because then you wouldn't have to worry about whether you've strayed out of your chosen POV. Well yes, but the main drawback is that you've placed a barrier (called narrative distance) between the reader and your character(s)' feelings.
Another drawback is that it isn't as easy to write as it may look. It takes expertise in the Craft to do it well. (An example of such expertise is Larry McMurtry's Lonesome Dove. More about this later.)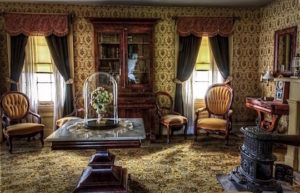 That narrative distance between reader and the characters' feelings is one reason it isn't used as much today. It was popular in times past because books weren't as plentiful and readily available to the reading public. I imagine that gentlefolk sat reading such luxuries in cozy, gas-lit parlors. Without television, radio, or Internet, novels were an entertainment to be savored. Long descriptive passages, musings, and omniscient observations of each character's physique and clothing prolonged the delight of reading. But today's readers want less description and more action, and they especially want to care about the main character.
Third Person Omniscient vs. Omniscient
If you read about the Third Person Omniscient POV in the June issue, you may now be wondering, what's the difference between these two POVs? It's a bit tricky. To review:
For Third Person Omniscient POV, the outside narrator (you, the author) may tell the story from the viewpoint of the MC; also, you can make the thoughts and motivations of any or all other characters known to the reader.
Unlike Third Person Limited, in Third Person Omniscient the story is written from the POV of the MC, with forays into other characters' viewpoints. Jane Austen's Pride and Prejudice is an example of the Third Person Omniscient POV. For most of this beloved story, we enjoy Elizabeth Bennet's POV. Sometimes, though, the outside narrator lets us in on something Elizabeth doesn't know:
The Bennets were engaged to dine with the Lucases and again during the chief of the day was Miss Lucas so kind as to listen to Mr. Collins. Elizabeth took an opportunity of thanking her. "It keeps him in good humour," said she, "and I am more obliged to you than I can express." Charlotte assured her friend of her satisfaction in being useful, and that it amply repaid her for the little sacrifice of her time. This was very amiable, but Charlotte's kindness extended farther than Elizabeth had any conception of; its object was nothing else than to secure her from any return of Mr. Collins's addresses, by engaging them towards herself. [Ch. 22, 1st paragraph]
Now look at this excerpt from Larry McMurtry's Pulitzer Prize winning novel, Lonesome Dove, which is written from the Omniscient POV:
Old Hugh Auld soon replaced Augustus as the main talker in the Hat Creek outfit. He caught up with the herd, with his wagonload of coats and supplies, near the Missouri, which they crossed near Fort Benton. The soldiers at the tiny outpost were as surprised to see the cowboys as if they were men from another planet. The commander, a lanky major named Court, could scarcely believe his eyes when he looked up and saw the herd spread out over the plain. When told that most of the cattle had been gathered below the Mexican border he was astonished, but not too astonished to buy two hundred head. Buffalo were scarce, and the fort not well provisioned.
[Ch. 98, 1st paragraph]
You can easily see the emotional distance between the reader and the characters (and events) in both passages. In Pride and Prejudice we're told that Elizabeth is grateful and "obliged" to Charlotte more than she can express. Charlotte assures her friend that being useful gives her "satisfaction." These feelings are told in an informative but dry tone.
In Lonesome Dove, we are simply told that the soldiers were "surprised" and that Major Court was "astonished," all in the same tone in which we're informed that "the fort was not well provisioned."
Understanding the Difference
In Pride and Prejudice, Elizabeth Bennet is the POV character throughout the story, yet there is an omniscient narrator who knows about Charlotte's designs on Mr. Collins. If the story had been written in Third Person Limited, Elizabeth (and thus the reader) could only know what Charlotte was up to if Charlotte had told her, or if Elizabeth overheard her tell someone else.
In Lonesome Dove, passages like the one shown above tell us about events, different characters' thoughts and feelings, and even give us information such as the scarcity of buffalo. In other passages of the novel we are treated to POVs from several characters in their own voices.
Next Month
You may have heard the writing advice Show, Don't Tell (which I prefer to call Show vs. Tell.) Go back and reread the above excerpt from Lonesome Dove. If the whole book read like that, you'd eventually get bored. Why? Because it's a brief example of telling, not showing. Yet Lonesome Dove is hardly a boring book. Fortunately for us, McMurtry is a masterful writer who knows that we need to do both, in the proper balance. And that will be the subject of next month's Writers' Font.