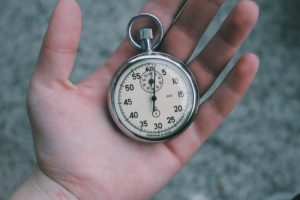 Some of you may remember my post a while back about handwriting my books. It's a habit that has served me well, and I've just finished my fourth book written this way: legal pads and slant-tipped sign pens. I have no way to prove quantitatively that writing this way promotes my creativity, but it would certainly seem to. Never before have I written four books in only thirteen months. But that could be a fluke, right?
When I began this handwriting journey, as soon as I had transcribed the words from the pad to the computer, I tossed the pad into the recycle bin. The text was safely embedded in Word; I didn't need the handwritten words any more. It was my husband's idea that I save them. For posterity, he said. Yeah, like anyone's going to care, I thought, but I did start saving them. Then, with my last book, I got another idea. I wrote down the date I started each pad. I had always taken casual note of how long it took me to write a book, sometimes nine months, sometimes three, but I never clocked it exactly. This time, when I finished the book, I actually figured out the word count of each pad and using the dates, calculated how many words a day I was writing.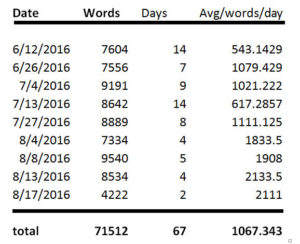 The results surprised me, but then didn't. It made sense to me that I started out slow: only 543 words per day for the first two weeks. I was finding my way, pulling my main character together slowly, setting the stage for the real action. After that, my word count picked up appreciably, over 1000 words a day, until…
The dreaded midpoint sag. My word count dropped to only 617 words per day. I remember those days. I wasn't sure where the book was going. I didn't think I had enough conflict. One of the relationships wasn't evolving like I thought it would. There were even days when I wondered if I would finish the book at all. We've all been there, right?
Then, suddenly, synchronistically, as happens so often with this art form, everything started to come together. The characters took over. I didn't have to plot out the action; they were doing it for me. All I had to do was record what I could see them doing. The word count picked up to 1111 words a day, then 1833, then 1908. On a roll!
The last push was on. The finale was only pages away. This was the time I could hardly stand to stop writing to cook dinner, to brush my teeth, to sleep. I just wanted to keep writing. I was so close, I couldn't stand to put the pad down. Obligations? Okay, I'll meet them, but grudgingly. Resentfully. When those were done, I would fly back to my pad, words tumbling out. I carried the pad around everywhere with me — to my recliner in the TV room, outside to the patio as the sun set, to the doctor's office so I could write while I waited. And it shows. The word count for the last two pads was over 2000 words a day. I ended up writing over 71,000 words in only 67 days.
It made me wonder; how fast do other authors write? I know many of you out there participate in NaNoWriMo, writing a complete book in just 30 days, and I believe some of you track your words per day. I'd be interested to know how that corresponds to my numbers here. None of this, of course, has anything to do with writing better, it's just one of those fun, interesting facts of the craft. And you can bet I'm going to be tracking my next book the same way. How about you?