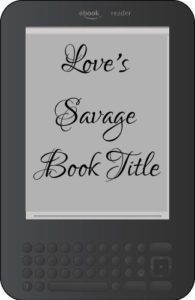 Life just isn't fair. It's hard enough to write a book, but then you have to come up with a title for it, too.
Not long ago, as we minions reclined around the gruel pot, we got into a discussion about how we come up with titles for our books. (We were asked for our input for an article about story title secrets at ridethepen.com, which started this conversation.) As it turns out, we use a range of techniques, from market research to gut feelings to serendipity.
Yvonne Hertzberger is at the market research end of the scale: "I try to make sure the title fits the genre. And I check that there isn't another one out there with the same title. Sometimes I struggle forever; others it just pops into my head and feels right. Last time I also consulted my writers group and the feedback was helpful."
Melinda Clayton's process is similar: "I always research a title before I start writing. I try to find something that incorporates the story but also includes a little bit of mystery. My favorite way to find a title is to search through relevant poems or Bible verses."
Laurie Boris brainstorms her titles: "I like to pluck a line of dialogue or a recurring motif from the story… I was having such a tough time on one title that I'd brainstormed three hundred possibilities. And then came back to the first one I'd thought of."
I'm a brainstormer, too. The titles I'm happiest with relate to several things in the book at once, and I've been known to dive into a thesaurus to find words with the right nuance. The title I struggled with must has got to be the one for Book 4 of the Pipe Woman Chronicles. The other books in the series all have one-word titles ending in -ed. I ended up calling that fourth book Gravid, which at least ends in -d.
RJ Crayton blends market research and her gut: "I try to get titles that capture the essence of the book, and that aren't overly long. I've heard that three words is the sweet spot, but it also depends on genre. A good rule of thumb is to look at the titles in the top 40 in your genre and see if there's a trend or certain feel about them and try to mimic that."
Melissa Bowersock's process is about as far from that as you can get: "I give my books a working title while I'm writing them, but something else invariably suggests itself when it's done. I actually have no idea how I come to the titles I do, but they always seem to fit."
Martin Crosbie, too, is a gut-feeling kind of person: "I'm sorry to be so unoriginal but I do pretty much what Melissa and Yvonne do. A title always seems to come to me while I'm writing the book, I check that there isn't a competing title, and I run with it. And like Yvonne says, sometimes I also struggle forever and other times it just pops into my head. Depends on the kindness of the muse I guess. Or maybe it's a Canadian thing?"
Maybe not. Gordon Long is Canadian, too, and his process is pretty involved: "I spend more time on titles than on any other words in the story. Sometimes I go through lists from the thesaurus. I look at other people's titles in my genre. I have even stooped to the story title generating programs on the Internet. Not for the actual words, but to find a pattern that feels right. I have a trilogy written with two perfect titles, forcing me to spend years (yes, years) trying to match them for the third book. Except for my book Why Are People So Stupid? On that one, I've had the title in my head all my life, waiting for me to collect enough evidence."
Kathy Rowe seeks her inspiration wherever she can find it: "Sometimes silly places – like seeing a billboard with 'Space Available' written across it."
And our fearless leader, Admin K.S. Brooks, is all over the map. Sometimes she's a little bit Melissa Bowersock with the working title and then something else comes along. Other times, she knows the title before she writes the book, or she pulls a piece of dialogue a la Laurie Boris. And then, there's this: "It all depends on the story, and if it's part of a series. For my Cover Me series, the word 'Night' is in every title."
So there you have it. We don't know the perfect way to find a book title, either. How do you do it?