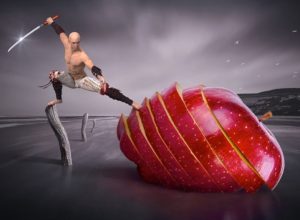 One of the great things about writing multiple books is that readers have several points of entry from which to discover your work. One of the pain in the rear things about having multiple books is that each time you publish a new book, you have to update all the back matter for every other book you have published.
What is back matter? It's exactly what it sounds like: all that stuff that comes in the back of the book, after your story ends. Back matter typically includes an "About the Author" section, a section listing other books by the author, book club questions, or inducements to join the mailing list.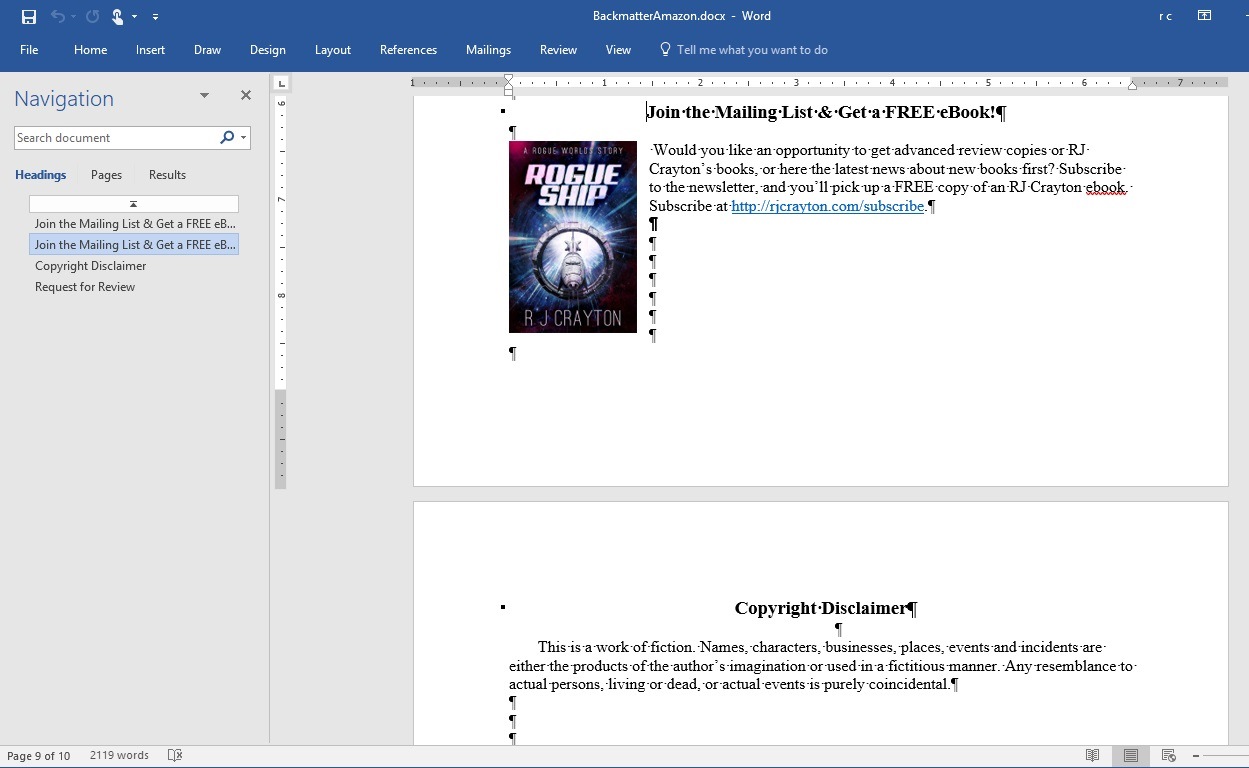 I have fourteen published works as RJ Crayton. Therefore, any time I publish a new book, I have to update the previous fourteen to include the new book in the back matter. As the back matter should look roughly the same for each book, I decided to create a file called "BackMatter." In it, I keep the text of all my back matter. It's got the "About the Author" text (using the correct fonts/styles). The file also includes a "Join the Mailing List," section which has an offer of a free book, and the "Also by this Author" section. That "Also by" section includes thumbnail cover images of each book, the book's description, and a link to purchase the book. My review request language is also in the back matter file (example: If you enjoyed this book, please take a moment to leave a review). As an aside, I actually have three different review requests language in my back matter file; I'm trying to see if a couple of tweaked versions work better than what I have now. While my file is called backmatter, I actually also include some front matter stuff, too. I have the text of the standard disclaimer in the file (this is a work of fiction and names, places are the author's imagination…). And many people use the "join the mailing list" enticement as front matter, not back matter.
I have two back matter files, and they are identical, except for the links. One back matter file is called BackMatterAmazon, while the other is called BackMatterWide. Some of my books are available exclusively via Amazon so they can participate in the Kindle Unlimited program, while others are available at multiple retailers. I generally have two eBook files: one for distribution on Amazon, and the other for distribution wide. Some people use one file for all retailers because it's easier. However, given that the bulk of my sales are on Amazon, I prefer to have an Amazon file with Amazon links so that if a customer is in the mood to buy, they can get to the buy page with one click, rather than clicking to my website and then back to Amazon.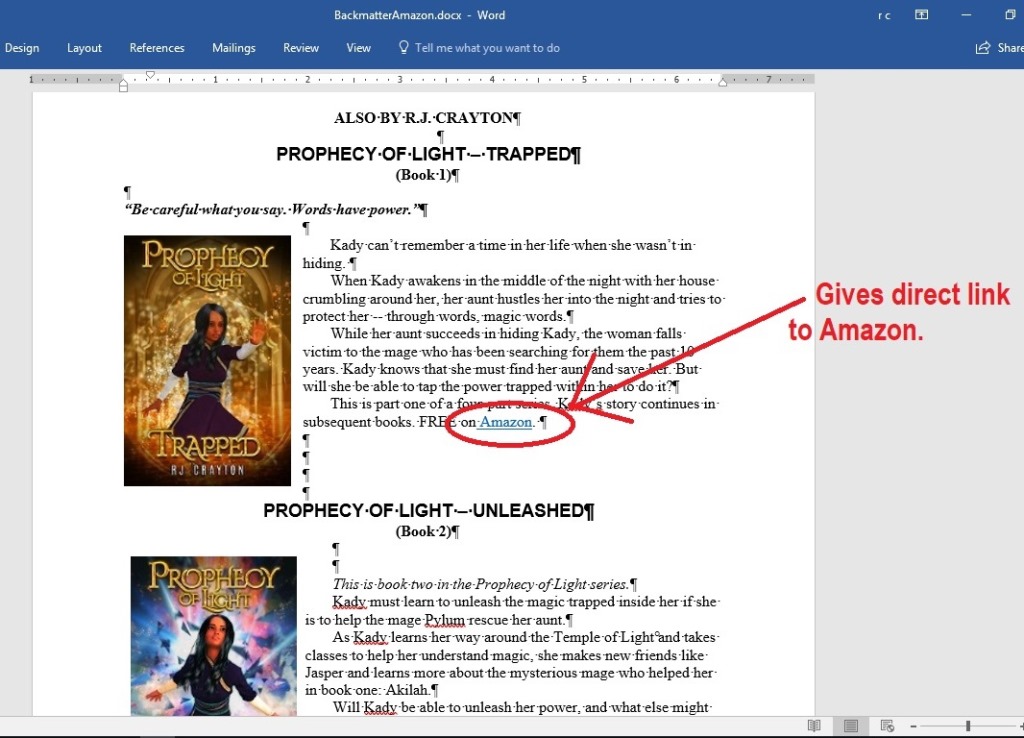 The BackmatterWide links to my website's page for the book. On my website book pages, I list all the retailers where a particular book can be purchased. I use this Wide file for the back matter of all files going to someone other than Amazon (Barnes & Noble, Kobo, Google Play, etc). Many of the other retailers have rules prohibiting links to competitor websites, so the links to the website allow an author to include books that are exclusive to Amazon in their back matter, as they're not including the link to Amazon.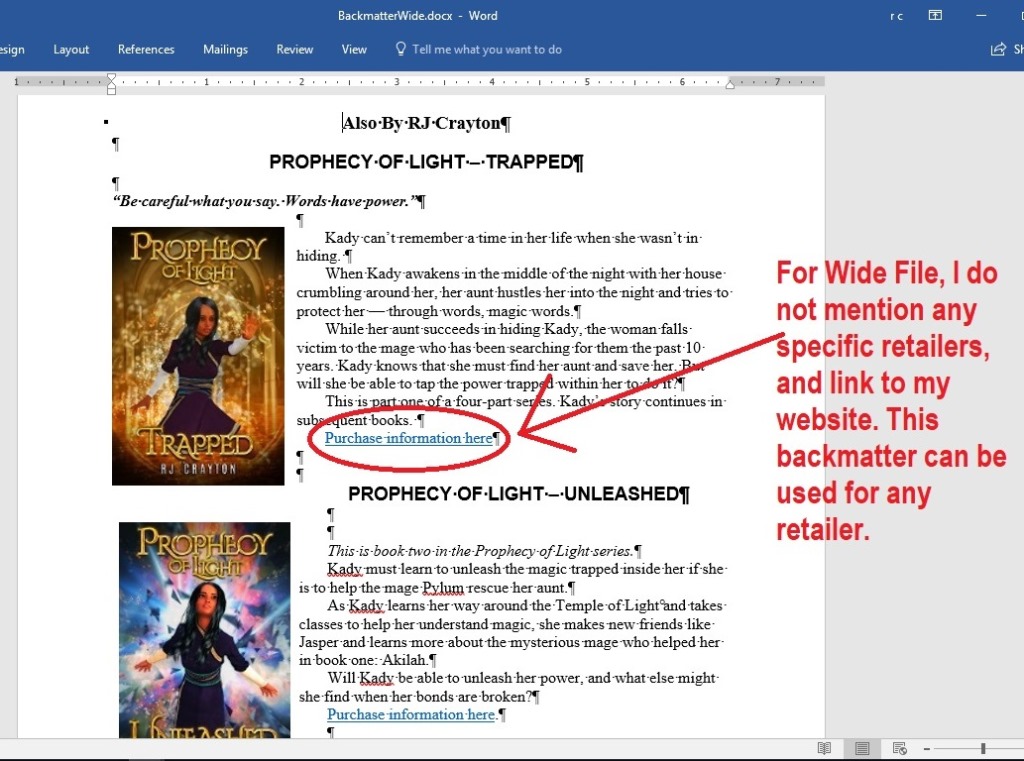 The back matter files keep everything in one place. I update them as soon as I have the blurb and cover for a new book. Then, when I'm setting up a new book, once I get the edited manuscript back, I add the front and back matter from the back matter file to the book. It's just a simple matter of cut and paste and I'm done. Because the back matter file has all the books, I do have to go in and delete the current book. For example, if I was creating the final file for my book Contained, the Also By section would look bizarre if it mentioned I'd written the book Contained. So, it's good to delete the current title from the list.
One author I know uses the Draft2Digital Back Matter Creator. As I understand it, that will create back matter for any book published by D2D. However, because some of my books are exclusive to Amazon, I'd have an incomplete back matter file if I used that option. If all of an author's books are wide, this might be a good option for them. Believe it or not, D2D  automatically sends a new file for all the previously published books when an author publishes a new book.
One thing I will note about the back matter file is, if you include a lot of information in your back matter, you have to be sure to update it. For example, in the Also By section, I include the book cover thumbnail and blurb. If I decide to change either of those, I have to update the back matter file. If you want to keep the back matter file simple, then just putting the book title (which should not change) and a link will require minimal updating. Generally, I go in and update all my books' back matter in the week after I have the link (or links) for the newest book. If you do a lot of changes with being wide vs. being exclusive to Amazon, I would recommend having the single Wide file that links back to your website. That way, readers aren't getting dead links.