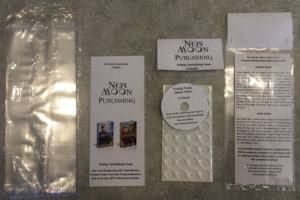 Most of us, I think, participate in as many book fairs in our local area as we can. I've written before about how to make the most of a book fair appearance, but recently I've forayed into new (to me) territory. I decided to have some eBooks on hand to sell.
How the heck do you sell an eBook in person?
I considered a few things. First of all, I wanted a physical product to hand to a customer. Taking their money and then just emailing something or sending it over in any number of wireless ways just seemed… less personal. I wanted a real product that was stylish, easy to understand and upload, and of course a great book. I thought about using inexpensive thumb drives, but even the cheapest ones added more overhead than I cared to absorb, so I finally settled on mini-DVD discs. These come in spindles at about $0.50 each. My total package (see photo above) includes:
1.       A clear gusseted bag;
2.       A card-stock information sheet, printed on both sides with information about the book and contents of the discs. I printed three of these per sheet, then cut them apart, so they ended up being 8.5" by roughly 3.5";
3.       A "topper" that I folded over the top of the bag to close it up. I stapled it on each side;
4.       The mini-DVDs, with printed labels;
5.       Clear, silicone hubs with sticky backs to hold the DVD in place.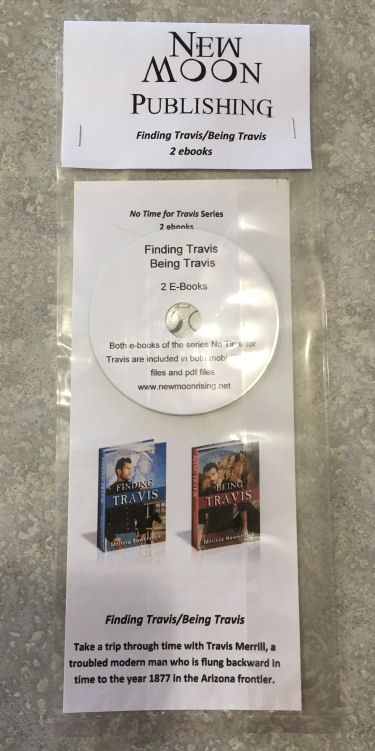 The assembly was pretty easy; I printed up the card-stock info sheets, cut them apart and then stuck a hub in the space I'd reserved for that (over my logo). I burned multiple files to each mini-DVD: my books (I included a 2-book set in this particular product) as both mobi files and as pdf files, plus a read-me file that explained the files and how to upload the books. I printed labels for the discs, applied those and then fixed the discs on the hubs so they wouldn't float around in the bag and possibly get scratched. Then everything went into the bag, and I closed it up with the topper and it was ready to go.
One thing that I paid particular attention to was the instruction for uploading. Not everyone is computer savvy, so I wanted to make sure that once my customers got their prize home, they would have no trouble figuring out how to get the book onto their eReaders. I'd hate to have a customer struggle to figure out how to do that, and then possibly end up frustrated and even unable to read the book. I of course include contact information on the card, but hope that if they do contact me, it's for a good reason and not a bad one.
Something else to keep in mind is exclusivity. If you, like many of us, have your eBooks in Amazon's KDP Select, that's an exclusive agreement that your eBook won't be available or sold anywhere else but on Amazon. My books were in Select, so I first went into my dashboard and unchecked the automatic renewal for each of them. They had a month or two to go on the 90-day period, but I did this far enough in advance that by the time my book fair dates came around, the books were no longer enrolled in Select. Some writers might wonder how Amazon would ever find out they were selling their eBooks like this, but I decided to go the safe route just to avoid any conflicts. I can always re-enroll my books in Select after the book fair season is over.
Why go to all this trouble? I want to be able to offer my customers a variety of products. I've had a few customers inquire about the price of paperbacks, only to hesitate because they didn't have the cash or were short on funds at the moment. I then, of course, let them know that the eBooks are available at a lesser price on Amazon, but who knows (1) if they will remember that when they get home or (2) if they will buy them. The old saw out of sight, out of mind comes into play here, and we know the best time to make a sale is when the customers are holding the books in their hands. This way, I am able to cover all contingencies at the very moment that the reader decides to buy a book, whatever the form.