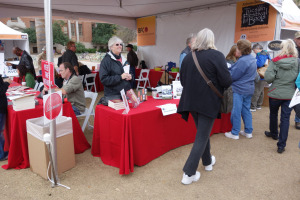 I used to live in Tucson, Arizona, where they started a new Book Festival back in 2009. That first year, there were over 50,000 attendees, and by the third year that number had jumped to 100,000. Quite quickly, the Tucson Festival of Books was rated in the top 5 book festivals in the country. I attended every TFOB until I moved out of the area, and it was gratifying to see so many people excited about books and reading. But being used to smaller events in book stores and libraries, I quickly realized that a book festival of this magnitude was a completely different animal, and there was a lot to learn. Every year I did things a little differently, and every year I had a more successful time.
The Nature of the Beast
At first glance, you might see a number of 50,000 or 100,000 potential readers and think, "Jackpot!" Yes, it's true, there're a lot of potential sales out there, but what I quickly learned is there is also (1) a lot of real estate these readers expect to cover and (2) a lot of other authors out there crying for attention. The problem with a venue like this is that there is a veritable river of readers rushing like a torrent down the alleyways between tents. Your mission, should you choose to accept it, is to get that river to STOP at your tent, or at the very least, pull out a few stray readers with whom you can converse.
Easier said than done.
Festivals like these always have vendor and sponsor tents. If you write in a single genre, you might try to get a spot in the Mystery Tent, or the Romance Tent, or see if you can get a book store, local business or publisher to make room for you in their tent. This way you may be able to narrow your audience and not have that thundering river to contend with. Check with your regional book festival for a list of sponsors and how to connect with them. I write across multiple genres, so that wasn't a good fit for me, and I always bought space in a generic Authors' Pavilion where I was not pigeonholed.
Okay, so you've got your territory staked out. What's next?
Don't sit behind your table and expect readers to approach you. They won't. I saw one woman sit behind her stack of books, head down, eyes averted and ― as she was probably expecting ― everyone streamed right on by. Stand up so you're on the same eye level with them. Smile. Make eye contact. Say hello. Offer freebies. I give out free bookmarks and free business card-sized magnets with my book covers on them. However, don't just lay your freebies on the table; actively hand them to people. Many people are afraid to pick things up, not sure if they are free or not, and if they don't take one, you've just lost an opportunity. While not everyone will take the freebies you offer, at least they will slow down for a sec, and if one of your books catches their eye, they'll stop.
Speaking of catching eyes, have something designed to do just that. I learned to have a poster large enough to read from a middle distance with a catchy or thought-provoking question or statement. It has to be short so people can read it quickly within the two to three seconds their eyes are roving my space. One year I was promoting my non-fiction, the biography of an Army nurse and prisoner-of-war, and I had a poster asking, "Could YOU survive a prisoner-of-war camp?" Another year I was promoting a novel about reincarnation and my poster read, "Have YOU lived before?" Ask the question or gear the statement toward the reader, drawing them personally into the implied discussion.
Once they've stopped, engage them in cheerful, non-pushy conversation. Do not pounce on them with, "Buy my book!" One year I shared a table with a man who practically leaped over the table and button-holed anyone who even looked sideways at his book. He would shove the book in their faces, reeling off his spiel and not even noticing the deer-in-the-headlights look on their faces or the speed with which they would skitter away at the first chance. When I was selling books and he wasn't, he was completely dumbfounded. He had no idea that he was actually driving readers away.
Remember to have fun. In my last appearance, I had people constantly at my table, and I was so caught up in our conversations that I wasn't even paying attention to the books I sold. After all was said and done, I realized I'd been selling a book every 20 minutes on average.
Finally, don't look at this as a huge selling event. It probably won't be. Look at it as a PR event where you can meet people and get your name out there. Very often attendees won't even try to make a buying decision; they just have too much ground to cover, too many things to see and do. Instead, think of this as a Halloween of sorts for readers. When they get home with all their free loot, then they'll sit down and go through the book marks and business cards and whatnot, and when they find yours, they'll think about that nice lady (or man) and that interesting-looking book. They'll remember your demeanor, your generosity, your cheerful conversation, and they'll think, "Yeah … I'm going to go order that book."
Things to Do
Stand up
Make eye contact
Smile
Hand out freebies
Have a poster with a catchy question or statement
Don't hard-sell; be friendly
Things to Have
Bookmarks
Magnets or other freebies (candy is also good)
Business cards
Poster
Payment sign (how much your books are, special discounts, etc. Also types of payment you accept)
Pens
Receipts (if requested)
Change for cash