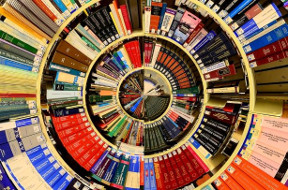 Those of you who use Draft2Digital to distribute eBooks outside of Amazon should have recently received a message that Draft2Digital has now partnered with Baker & Taylor's Axis 360 eBook distribution platform.
Baker & Taylor, a massive distributor of books, movies, DVDs, and other entertainment, has been in business for over 180 years. A primary distributor to libraries, Baker &Taylor is owned by the Follett Corporation and is based in Charlotte, North Carolina.
But wait, you may be thinking (or at least I was), Draft2Digital already uses OverDrive to reach libraries. Why do we also need Baker & Taylor?
The short answer is that they offer different services and are used by different libraries. The long answer is more complicated.
OverDrive, as you probably know, also distributes eBooks to schools and libraries. OverDrive was founded in 1986, originally to convert analog video and audio media to a digital format. In 2000, they extended their business online and began what would eventually become one of the first – and biggest – eBook distributors to retailers, libraries, and schools. OverDrive is compatible with just about any ereader on the market.
Although Baker & Taylor existed first, they originally specialized in the distribution of paperbacks and hardbacks. OverDrive predated Baker & Taylor by over a decade when it comes to the distribution of eBooks. Baker & Taylor didn't enter that market until 2011.
From The Digital Reader:  "Baker & Taylor's Axis 360 platform is one of the lesser known library eBook providers. Launched in 2011, it originally supplied eBooks in Blio format before giving up and offering Epub eBooks which could be read in the Axis 360 apps for Android or iOS, or on a compatible ereader."
When Baker & Taylor decided to branch out into the distribution of eBooks, they became … well, you could say frenemies … with OverDrive. In 2009, believing they were forming an exclusive partnership, OverDrive signed on to help Baker & Taylor develop their own eBook distribution services, one that was superior to the one OverDrive was currently using. They even gave Baker & Taylor access to their list of accounts, sales and marketing data, inventory, and servers. It didn't end well.
Now they're competitors when it comes to distributing eBooks to libraries. Some libraries use both systems; some only use one. Because OverDrive has been in the business of eBook distribution longer, they're used by more libraries and have, according to some, better developed technology. Because Baker & Taylor has over 180 years of paperback and hardback book distribution behind them, they're catching up quickly.
Again, from The Digital Reader:
"While it is good to see Follett continue to invest in this platform after acquiring B&T in April 2016, Axis 360 still has a ways to go to catch up with OverDrive."
For the savvy author who wants to reach as many libraries as possible, it makes sense to use both. I must admit, I felt a little sorry for OverDrive when reading about the court case. Still, their failed partnership opened up even more opportunities for authors, so I'll take it.