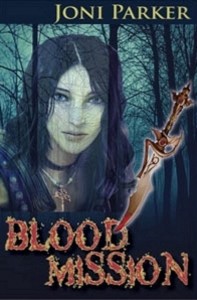 Today we have a sneak peek from the epic fantasy novel by Joni Parker: Blood Mission.
The two most powerful Elves on Seaward Isle, Prince Darin and Lord Odin, survive an assassination attempt by the rogue Elf Mellen, thanks to the Prince's young half-breed female cousin, Alex. Now shaken by events, they task her with a Blood Mission — to hunt down and kill the rogue Elf, or die in the attempt. Alex's training as a tracker doesn't fully prepare her for the complex mission as she finds the fate of kings and the safety of the inhabitants of Seaward Isle squarely in her hands. Can Alex survive her mission long enough to discover her own destiny?
Blood Mission is available from Amazon, Amazon UK, Smashwords, and Kobo.
Here is an excerpt from Blood Mission…