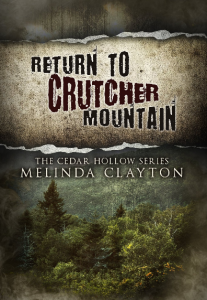 Return to Crutcher Mountain
by Melinda Clayton
Genre of this Book: Southern fiction, general fiction Word count: 71,000
As recounted in Appalachian Justice, Jessie is an adult survivor of horrendous childhood abuse. At the age of thirteen, she was rescued by reclusive mountain woman Billy May Platte.
Now forty-seven, Jessie is outwardly successful but inwardly struggles to reconcile the broken pieces of her past. In honor of Billy May, Jessie has offered Crutcher Mountain as a location to build the Platte Lodge for Children, a wilderness retreat and respite program designed for children with disabilities. Everything comes together beautifully until a series of strange events threatens to shut down the retreat.
To save the lodge, Jessie must open her heart to the truths she discovers and place her trust in a lonely little boy.
This book is available from Amazon, Barnes & Noble, and Smashwords. Continue reading "Book Brief: Return to Crutcher Mountain"