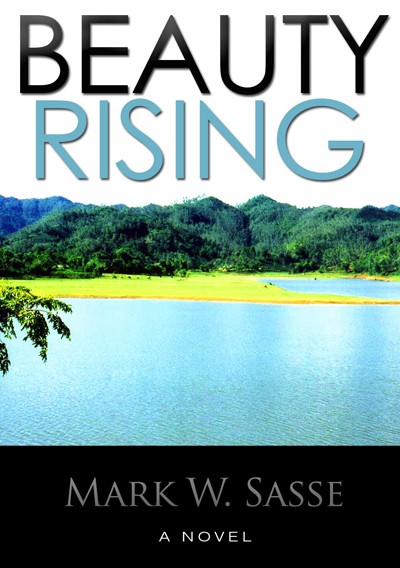 Today we have a sneak peek from author Mark W. Sasse's new novel,  Beauty Rising.
"My heart sank. I dumped my father's ashes in the heart of communist Vietnam – over a thousand miles from the death of his comrades – over a thousand miles from the smile of that girl. How could I have been so stupid?"
Only the bumbling, overweight, thirtyish, stay-at-home Martin Kinney could have mistakenly flubbed his dying father's request with such gusto. This thousand mile mistake awakens the ghosts of long-held family secrets and puts Martin on a fateful course with an unlikely romantic interest – a young, beautiful, yet troubled Vietnamese woman named My Phuong.
Beauty Rising  is available from Amazon.com and Amazon UK.
Here is an excerpt from Beauty Rising…
The Wallet
The crowd pressed in from every side making me extremely self-conscious of my wallet, which was still in the back right pocket of my jeans. I stood in a sea of black haired people being the only red-head, and my Steelers cap did little to mask that fact. The smell of incense lingered everywhere and the non-syncopated drum beat seemed to push the smoke from the man-sized joss sticks in random directions. Everything looked random. Everything felt random. I could barely see my taxi driver, who was separated from me by nearly ten people, half of whom cut through the scene towards me and the other half who weaved beside and in front of me. Through the chaos there was continual movement but little progress. I continued stepping on toes and plowed through the congestion trying to catch up with my thin, short Vietnamese driver. I placed my hand firmly over my wallet in my back jeans pocket and waited for an opening slightly larger than my big frame that would enable me to remove my wallet so that I could slide it into my front pocket. Suddenly, a violent push from behind jerked me forward nearly knocking over the gaunt old woman wearing a conical hat in front of me. I immediately returned my hand over my back pocket, but it was empty. The wallet was gone. I frantically turned around looking at the crowd which cornered me from every angle, and I reached out and grabbed the arm of a young Vietnamese woman immediately on my right.
"Where's my wallet? Give me my wallet," I yelled at her.
She looked in horror at me; I had either frightened her to death, or the con was on. Her face looked so young, so smooth; so frail. I felt like a big white bully picking on a helpless girl. Maybe it was her beautiful guile that sucked me in as Vietnam always does with America. She was beautiful, with long black flowing hair just like dad said. People continued to whip around us in all directions as she stood staring at me pulling and straining as I firmly held her wrist. She was a slender deer meant for sprinting; I was the hunter who trapped her. I didn't know if she was the thief. There was no way to tell. If she could only give me a smile, like the girl that smiled at my dad under the banana tree, then I might know something. I felt like I held her wrist forever, and she only stared back in terror, looking deep into me with those black innocent looking eyes. I had to let go, so I released her. Her white flowing clothes disappeared through the crowd like a vapor. I stood completely alone, moneyless, in the midst of a thousand people in this strange, exotic land. At least I had done what dad had asked. That was the only comfort I had.
---