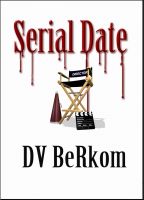 Serial Date
by DV Berkom
Genre: Thriller/satire
65,000 words
A retired assassin. A serial killer with a social agenda.
A politician with a fondness for free-range livestock.
Determined to leave her old life behind, retired assassin Leine Basso accepts a job working security at one of television's most popular reality shows, SerialDate. When a contestant is found dead in the prop closet, it appears the killer is one of the 'bachelors' on the show- an ex-con billed as a serial killer- but the detective in charge of the case isn't so sure.
When Leine's estranged daughter is abducted by a man claiming to be the real killer, she's forced to rely on old skills to find her, and must come to terms with who she really is. She soon realizes the murderer may be a grisly remnant from her past and she'll need to use all of her cunning to stop him and rescue her daughter.
This title is available from Amazon, Barnes and Noble, and Smashwords. Continue reading "Book Brief: Serial Date"