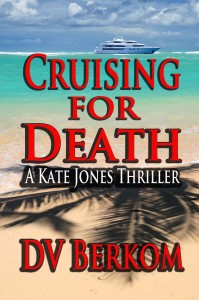 Cruising for Death
by DV Berkom
Genre: Thriller/suspense
65,000 words (approx.)
Kate and Cole are on a luxury cruise in the Caribbean when a passenger dies of an apparent heart attack and the ship is boarded by modern-day pirates. Along with two other passengers, Kate is kidnapped by a long-lost enemy who wants to settle an old score.
Will Kate escape certain death or end up as shark bait in the middle of the Caribbean? It's adventure in paradise and promises all the fast-paced action readers have come to expect from the Kate Jones Thriller Series.
This title is available from Amazon, Smashwords, and Barnes and Noble.
How did you come up with the title for your book? Does it have any special meaning?
The book before this one in the Kate Jones Thriller Series is called Touring for Death. I liked the way it sounded, so continued with Cruising for Death. The next one will probably be Vortex of Death or something similar.
Who was your favorite character and why?
Kate's always a favorite, but in Cruising for Death I loved writing the scenes with Grace, a Voodoo priestess from a Caribbean island. She's mysterious and courageous and knows how to cure zombies.
Does your book have any underlying theme, message, or moral?
Definitely not! These books are only to be used for entertainment purposes…Well, okay, maybe there is an underlying message that a person can make mistakes and still have things work out. It's all about second chances.
What would/could a reader or reviewer say about your writing that shows they "get" you as an author?
I love it when readers tell me they can relate to Kate and love her character despite her flaws. And it's not limited to female readers. Emails and reviews are running close to 50/50 men/women. One review for an earlier Kate Jones thriller was written by a guy who didn't usually read books with a female character as the lead, since he found it hard to relate.
Give us an excerpted quote from your favorite review of this book:
"This latest in the Kate Jones series is fabulous! Action-packed adventure, exotic intrigue, great edge of your seat pacing! Kate is a kick-ass heroine with courage and decisive intellect. An excellent read!"
Where can people learn more about your writing?
http://www.dvberkom.com