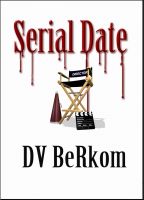 Serial Date
by DV Berkom
Genre: Thriller/satire
65,000 words
A retired assassin. A serial killer with a social agenda.
A politician with a fondness for free-range livestock.
Determined to leave her old life behind, retired assassin Leine Basso accepts a job working security at one of television's most popular reality shows, SerialDate. When a contestant is found dead in the prop closet, it appears the killer is one of the 'bachelors' on the show- an ex-con billed as a serial killer- but the detective in charge of the case isn't so sure.
When Leine's estranged daughter is abducted by a man claiming to be the real killer, she's forced to rely on old skills to find her, and must come to terms with who she really is. She soon realizes the murderer may be a grisly remnant from her past and she'll need to use all of her cunning to stop him and rescue her daughter.
This title is available from Amazon, Barnes and Noble, and Smashwords.
D.V., how did you come up with the title for your book? Does it have any special meaning?
The original title was "Pieces of April" but I realized there was already a song, a movie and a book by that name (knew about the song, but not the others) One night, over Thai food and drinks with little orchids in them, a writer friend suggested "Serial Date" which is the name of the reality show in the book. This was a seriously d'oh moment.
Who was your favorite character and why?
I was overly fond of Leine Basso's love interest, Santiago Jensen, to my partner's chagrin. (We're both over it, now.) Why? Because I made him up and he's seriously hot—and because I can make him do anything I want and then put him away when I've finished with him…
Does your book have any underlying theme, message, or moral?
I try hard not to have much of that kind of thing in my books. I'm all about entertainment and I think preaching is a turn-off for people, especially when they're reading to escape. That said, I have found a recurring theme (completely unintentional, I assure you) of second chances and redemption in my writing. Go figure.
What would/could a reader or reviewer say about your writing that shows they "get" you as an author?
It's always fun to get emails/reviews from readers telling me they couldn't put the book down, or they related to the heroine, or the writing was so evocative they felt as though they were there. Of course, with Serial Date, it's nice when folks get the satire I've infused throughout the book.
Give us an excerpted quote from your favorite review of this book:
One of my favorite reviews is from an Amazon reader: "…Berkom is an intelligent writer who understands the nuances of plot, the importance of pacing, and how to create complex, sympathetic characters. It's difficult to take the gaudy world of reality television seriously, so Berkom doesn't even try — she stops just shy of caricature by creating convincingly self-serving villains with compelling back stories of their own…" Here's the link to the rest of the review: http://www.amazon.com/review/R3J5BJG04C8KQ
Of course, anyone who uses the words "intelligent writer" in a review for one of my books will invariably receive enduring devotion from me as well as my first born child.
Where can people learn more about your writing?
http://www.dvberkom.com