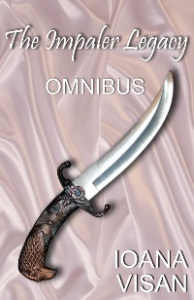 The Impaler Legacy Omnibus
by Ioana Visan
Genre: Paranormal
Word count: 120,000 words
In a world crawling with vampires, Romania is the safest place left on earth. Thanks to the Little Council, there hasn't been a vampire on Romanian ground in over five centuries, until one day when Liana Cantacuzino is ordered to bring one in, covertly.
Enter Maximilien Hess, a thousand-year-old vampire determined to ruin the existing order of things. When all is revealed, Hess's secret changes everything, and a reluctant alliance is formed because the alternative is much worse.
The Impaler Legacy series is a vampire saga like no other.
This book is available at Amazon, Smashwords, and Barnes & Noble. Continue reading "Book Brief: The Impaler Legacy Omnibus"