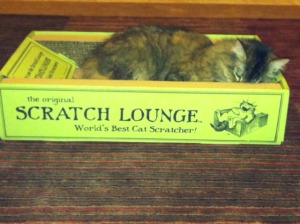 Let's be honest. It would be wonderful to climb the stairs to our private tower, a writing oasis, carrying a cup of coffee and nary a financial concern. Oh, the blissful euphoria, to have our creativity flowing freely, unimpeded by the worry of small things like the electric bill. We could travel extensively, immerse ourselves in foreign culture and inspire our masterpiece. We could be like Spunky the cat, who has had a fabulous benefactor her entire life allowing her to work on her favorite project–herself. Proper grooming and self-absorption have been, in this feline's case, taken to a lofty level.
To have a patron who writes the checks and funds our creative vision should be a benefit available to all dedicated artists. Unfortunately, the funds to support art and artistic endeavors are the first line item cut by the bean counters. Without the joy of visual art, music, dance and literature we would certainly live a black and white existence. There is hope, my friends. From a small office in Brooklyn the idea of crowd funding was realized in a brilliant platform called Kickstarter. You can read about Kickstarter basics here.
Simply put, crowd funding is a concept in which the funding comes from a broad base of supporters rather than a large donation from one person. You can ask total strangers to give you money to help realize your indie literary dreams. The people who give you donations are not backers or traditional investors. They do not own any part of your project. The idea is to gather a substantial number of people to help you fund your project through many small donations.
This is how it works. On the Kickstarter site you create a profile and write what your project is in detail. The project guidelines are here. This is a sales opportunity so make sure to peruse other successful project pages to see how they are structuring their requests. Then, make your business plan detailed and exciting. Tell people why they want to be part of it. Don't be embarrassed to specify how much money you need to accomplish your goal. You can offer small gifts with certain levels of donations, for example a t-shirt with a $25.00 donation. Dinner with a charming author could cost $100.00 in backing. These tangible rewards are up to you, and they need to be legal outside of Las Vegas. Then, you can sit back and, hopefully, watch your funds grow.
There are a couple of catches, and I suggest you read the guidelines thoroughly before setting up a fund request. In the US the pledges are processed on the Amazon platform and, of course, they take their 3-5% cut. The Kickstarter site takes a 5% cut as well. And, most importantly, if you do not reach your set goal, the specific amount of money you asked for by the targeted date, you do not receive the pledged funds. No one who pledges money to a project that fails to reach its fundraising goal is charged. That doesn't seem fair to me, but those are the rules. It's all or nothing.
There are dazzling success stories of funds raised for indie endeavors. From Wikipedia's list of notable projects: "The documentary short Sun Come Up and feature documentary Incident in New Baghdad were each nominated for an Academy Award. The contemporary art projects EyeWriter and Hip-Hop Word Count were both chosen to exhibit in the Museum of Modern Art in 2011. The filmmaker Matt Porterfield was selected to screen his film Putty Hill at the Whitney Biennial In 2012. The author Rob Walker's Hypothetical Futures project exhibited at the 13th International Venice Architecture Biennale. The musician Amanda Palmer's album Theatre is Evil debuted at No. 10 on the Billboard 200. The designer Scott Wilson won a National Design Award from Smithsonian's Cooper-Hewitt, National Design Museum following the success of his TikTok + ExtremeLikes project that provided TikTok users with affordable social media promotion. And, approximately 10% of the films accepted into the Sundance, SXSW, and Tribeca Film Festivals are funded projects on Kickstarter."
Some of the successfully funded projects have resulted in scandal such as the Amanda Palmer story. Suffice it to say that if you present yourself as an artist with a collective/communist philosophical belief you should share the millions raised on Kickstarter to support your project with the musicians who are going to perform with you.
There are no firm statistics that indicate whether or not the sites like Kickstarter divert funds away from other charities. It seems that when a project inspires interest people manage to find a few dollars to support it. If you decide to give Kickstarter a try I wish you good luck and success in your fundraising. Let us know how it goes.