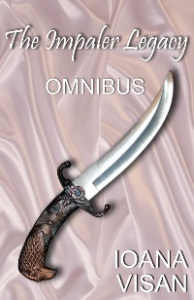 The Impaler Legacy Omnibus
by Ioana Visan
Genre: Paranormal
Word count: 120,000 words
In a world crawling with vampires, Romania is the safest place left on earth. Thanks to the Little Council, there hasn't been a vampire on Romanian ground in over five centuries, until one day when Liana Cantacuzino is ordered to bring one in, covertly.
Enter Maximilien Hess, a thousand-year-old vampire determined to ruin the existing order of things. When all is revealed, Hess's secret changes everything, and a reluctant alliance is formed because the alternative is much worse.
The Impaler Legacy series is a vampire saga like no other.
This book is available at Amazon, Smashwords, and Barnes & Noble.
Ioana, how did you come up with the title for your book? Does it have any special meaning?
It's the title of the series, obviously, and it's derived from the title of the first book, The Impaler's Revenge. It implies that everything that's happening in the book is a direct result of Vlad The Impaler's actions.
Who was your favorite character and why?
Most readers seem to fancy Max, but I'm quite fond of Liana. She needs a lot of strength to overcome her past and face an impossible situation, lead an army, fight vampires, and save the people she loves.
Does your book have any underlying theme, message, or moral?
It shows that the world changes, and one can't get stuck in the past no matter how good the decisions have seemed at one point. Even the most different people can get along if they try hard enough because there's place for everyone under the sun.
What would/could a reader or reviewer say about this book that shows they "get" you as an author?
If they say it's different from everything they've read, it's probably the best compliment I can get. But if they say they cared about the characters, were curious about what happened next, and enjoyed the ride till the end, that's good enough for me too.
Give us an excerpted quote from your favorite review of this book:
"I would highly recommend this Omnibus to anyone who likes great characters and not your run of the mill vampire story." – John Miller
Where can people learn more about your writing?
http://www.ioanavisan.tk