Today we're pleased to announce the winner of the second weekly "Writing Exercise with a Twist" here at Indies Unlimited.
The winning entry is rewarded with a special feature here today (the pure prestige alone of which cannot even be measured in monetary terms – really), and a place in our collection of winners which will be published as an e-book at year end.
Seven entrants received a total of 28 votes, and claiming nearly 46% of those, the winner is: Contestant #4– Pam Logan.
Thank you to everyone who participated –  excellent entries! Now, without further ado, (trumpet flourish) here's the winning entry by Pam Logan: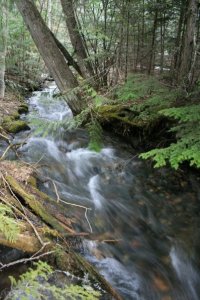 Timestream
by Pam Logan
It happened so long ago, I had completely forgotten about it until now. Walking through the woods, seeing the creek with the rippling water and cascading waterfalls brought it back like it was yesterday.
My brother and I had made boats out of plastic, cardboard, tape, anything we could find. It was a race to see who could get to the end in one piece. We ran through the woods with our homemade boats, he with his GI Joe and me with my Barbie, were ready.
With passengers strapped in, we let them go on the count of three. It started out slow and calm, neck and neck, or maybe, bow and bow. We walked, then ran alongside laughing and giggling, encouraging our boats to go faster, poking with sticks if they got stuck on a branch or rock, yelling at each other if one or the other helped too much.
The boats twisted, turned and spun around in the current. The creek got wider and faster. We couldn't poke anymore. Both boats flipped upside down and back again. They went over a small waterfalls, passengers toppling out of the boats and boats coming apart in pieces. That was the last time we saw any them.
Last year, when we said goodbye at the airport, as he headed off to Afghanistan, I gave him a GI Joe and he gave me a Barbie. We both laughed until we cried. I will never see him again except in my memories.
*      *      *      *      *
The photograph used in the challenge was taken in my back yard in May 2009.  I moved to the wilderness of Northeastern Washington State in 2008 to focus on my writing.  Scenes (and their sounds) such as this one continue to provide inspiration and zen.[subscribe2]