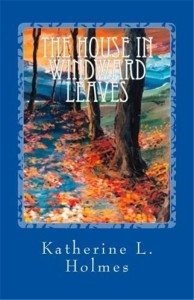 Today we get a sneak peek of author Katherine L. Holmes' novel,  The House in Windward Leaves:
At this Halloween party, costumes make the child.
The painter Mistral's mural transports Sadie and her friends to a star where their Halloween costumes become real.
As Fortuneteller, Sadie only has to look in her crystal ball to see the adventures of her friends in their dream identities.
The hunt for a star-of-sapphire necklace takes up the latter chapters of this madcap fantasy.
The House in Windward Leaves is available in print and for Kindle on Amazon.com, for Nook on Barnes & Noble, and on Smashwords. Continue reading "Sneak Peek: Katherine L. Holmes' The House in Windward Leaves"