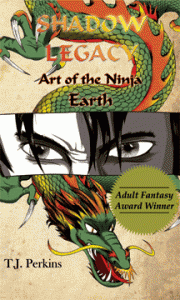 Today we get a sneak peek of author TJ Perkins novel Art of the Ninja, Shadow Legacy:
Growing up ninja in a modern world with ancient customs is difficult, but the Japanese government still has need of them. Training in the Chaio village, home of the best ninja, Duncan Kimura dreams of one day being chosen for the elite special forces–the Black Dragon Squad. But his dreams won't become a reality if he can't control his destructive rage that threatens everyone around him.
Faced with a foe unlike any other, Duncan must overcome his own fears and the raging anger bursting within him to save the woman he loves from certain death. Follow him through his trials and challenges as he will either lose himself to his rage and become a threat to all he knows and loves, or triumph and become the ninja his people expect of him.
Shadow Legacy is available on Amazon.com in print and for Kindle. Continue reading "TJ Perkins' Art of the Ninja, Shadow Legacy"