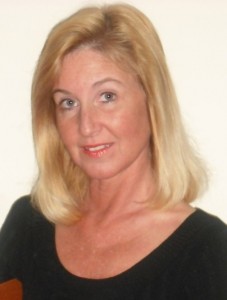 T.J. says her writing style is fun and imaginative. She says, "I write with such vivid imagery that the reader can't help but to see the scenes unfold in their minds. You can't help but put yourself in the main character's shoes."
She finds her inspiration in bits and pieces from every day happenings in her life or from others. She then twists them, shapes them and bends them into something so unreal that she says it could be real. That sounds like a typical Saturday night for me.
T.J. says the hardest part of writing is starting a story and ending a story. She says she will go walk and exercise to work out a situation and find a resolution.
T.J. finds that marketing is a lot harder than it was a few years ago. "What worked in the past isn't working nowadays. Kindle is my money maker right now. I don't spend money that I don't have for advertising. The best advertising is interviews, blogs, Kindle Boards, Nook Boards and word of mouth. If all authors help each other out we will all benefit – this isn't a competition anymore."
Her advice to aspiring writers? "Show – don't tell. Detail is the key, but only to the point to where your reader can see the story in their mind's eye. Many kids ask me how I get my stories so detailed and I tell them: While I'm writing, many times I'll close my eyes and type out the story while it's playing in my mind.
T.J. also admonishes that becoming a successful writer is a long, drawn-out process. "It's not something that will happen over night and don't quit your day job. Sound familiar? But it's all true! If writing is your true passion then stick with it, perfect it, learn from it and try not to be so sensitive when you get shot down. Be tough, tenacious and grown thick skin."
T.J.'s latest book is Art of the Ninja – Earth (Shadow Legacy):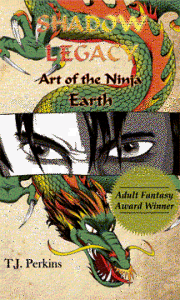 Growing up ninja in a modern world with ancient customs is difficult, but the Japanese government still has need of them. Training in the Chaio village, home of the best ninja, Duncan Kimura dreams of one day being chosen for the elite special forces–the Black Dragon Squad. But his dreams won't become a reality if he can't control his destructive rage that threatens everyone around him.
Turmoil threatens to tip Duncan's balanced world; rivalries, disputes with other teens, competition, and a beautiful kunoichi–a female ninja. The plague of emotions fuels his anger and an entity hidden deep inside him threatens to surface–it wants out.
The Chaio ninja are guardians of secret ancient artifacts that are of great interest to a mysterious foreigner who employs the help of a rival clan, the Shimoshuki, to steal them.
Only one ninja–a kunoichi–takes the mission, and she wants Duncan's power for her own. She infiltrates the Chaio village alone and secretly threatens everyone close to Duncan. If he tells anyone about her, she vows to kill them. In return she wants his power and the secrets of the Chaio village.
Faced with a foe unlike any other, Duncan must overcome his own fears and the raging anger bursting within him when she kidnaps his girlfriend with plans to kill her. Follow him through his trials and challenges as he will either lose himself to his rage and become a threat to all he knows and loves, or triumph and become the ninja his people expect of him.
This story is alternate reality fantasy and is for ages 16+ due to violence and graphic killings. You'll witness the beginning of magic skills, touching on the boarders of the Dark Ninja Arts and forbidden magic, and watch Duncan tap into the unknown entity that wants to take him over.
Art of the Ninja – Earth (Shadow Legacy) is available at Amazon. Learn more about author T.J. Perkins  and see book covers, read sample pages and brief plot summaries at her website. She maintains a blog that covers information about the Shadow Legacy. You can also follow her on Twitter.
[subscribe2]