Yeah yeah, I know.  You're on Facebook, Goodreads, Twitter, LibraryThing, Google+, LinkedIn, eHarmony and who knows what else.  If you're like me, you're wondering if these things are helping at all in the promotion of your book(s).
Sometimes it's not about where you are, but "how" you are using those tools.  Here's a tip on how you can use Twitter just a little bit better – and it's something you only have to do once!
This is very quick and very easy. All we're going to do is "spruce up" your profile. It's really about making yourself more accessible – and giving people the opportunity to find out more about you in a quick and convenient fashion.
Log in to your Twitter account.  Click on your username in the top right-hand corner.  The drop down arrow will give you three options. Click on Settings. When the Settings Home Page comes up, click on "Profile" which is in blue near the top of the screen. You'll now be sent to the profile screen like the one below here.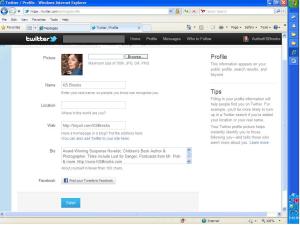 Clicking on the image to the left will enlarge it if you need a better look.  Now, where it says web, most people put a link to their web site or blog.  What you REALLY want to put in there is a link to where people can purchase your book(s). My link goes to my Amazon.com Author Central page.  Since those urls are usually pretty long and gnarly looking, you can go to www.tinyurl.com to shorten and customize it. Once you've got that in the web box, move onto your biography. Type that into the "bio" box. Make sure to include a link to your website or blog there – it's important that the site represents you well as this will be the link that people will have access to when they're notified that you've followed them.  When you're done, click save. It was really just that easy. Now Twitter will do the rest of the work for you.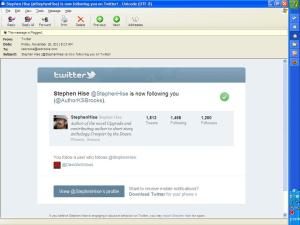 You may not think that's a big deal, but check out how most people normally use their Twitter profiles, and how that looks in a notification email:
Now you know a little bit about who is following you.  But what if you want to know more? The way it is now, you'd have to click on Steve's handle in the email, wait for Twitter to lead you to his profile, then click on his web site.  That's more clicking than someone lazy like me wants to do.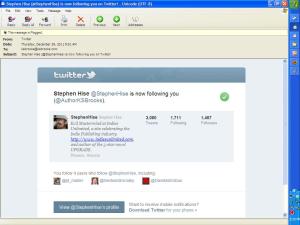 This screen shot was taken after Steve updated his profile.  Now, with one quick click, you can go directly to his web site to learn more about him.  You can read his blog, buy his book, and find out what kind of evil mastermind he is without having to search.  Wouldn't you like to be THAT accessible?
See?  Very quick, very easy and just one more way to get your information in front of people in a convenient manner. If you're still not certain how to update your profile, Twitter has an excellent tutorial here.  Now Tweet on!
*     *     *     *     *
K.S. Brooks is an award-winning author and photographer, and Co-Administrator of Indies Unlimited. For more information, please see the IU Bio page and her web site: http://www.ksbrooks.com/[subscribe2]