Today we're pleased to announce the winner of the fourth weekly "Writing Exercise with a Twist" here at Indies Unlimited.
The winning entry is rewarded with a special feature here today (a prize of inestimable value), and a place in our collection of winners which will be published as an e-book at year end.
It was a very tight competition this week, with the 11 entrants receiving a total of 86 votes.  With 17% of those, the winner is: Contestant #11– Sandra Campbell.
Congratulations to Sandra, and thanks to everyone who participated – excellent entries! Now, without further ado, (cue fireworks) here's the winning entry by Sandra Campbell.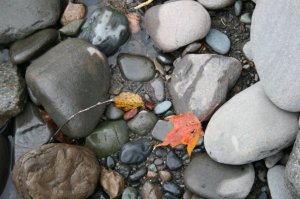 Sudden Death
by Sandra Campbell
My heart hammered against my chest as I stumbled out of the brush into a small creek. End of the line. I didn't have it in me to keep running. About a mile back I dropped their stinking bag of blood money. It had to be enough. What more did they want from me? They'd already broken my arm and smashed up my face, maybe more. The drilling pain in my gut had nothing to do with my frantic race through the woods. Early spring in bear country, with nothing but the clothes on my back, I'm dead in twenty-four hours.
Once my heaving breaths and pounding heart quieted, the only sound left was a gentle breeze through the trees and the faint trickle of water between the smooth stones lining the creek bed. No crashing footsteps, painful grunts, or screams of profanity. I filled my nose with the delicious smell of new leafs, spring rain and damp earth. They're gone.
My legs buckled without warning, slamming my knees to the rocks. Uncontrollable sobs exited my mouth.
I'm alive.
The snap of a twig… the touch of cold steel to my head… I've always heard your life passes before your eyes right before you die. What a crock of shit. All I could see was dirt and rock as I slipped face first to the ground.
 *      *      *      *      *
The photograph used in the challenge was shot during Hurricane Ike in September 2008 on the wild and unique Gaspe Peninsula of Eastern Quebec, Canada.[subscribe2]