Let's just say you've been asked to do a blog interview, or your sending out a press release, or you're sending out a e-newsletter. In each of those cases, you want to provide a clickable purchase link to your book. Of course you're more than happy to do that, right? You want people to buy your book – who doesn't? So why would you give them THIS UGLY LINK????  http://www.amazon.com/Bad-Book-ebook/dp/B007SAVB7G/ref=sr_1_fkmr0_1?s=digital-text&ie=UTF8&qid=1335018955&sr=1-1-fkmr0
Ugly, isn't it? Then don't do it. Not only is it hideous, it looks unprofessional. But Kat, what choice do I have? you ask. First of all, you may refer to me as Czarina. Secondly, there is an easy and free option: TinyURL.com.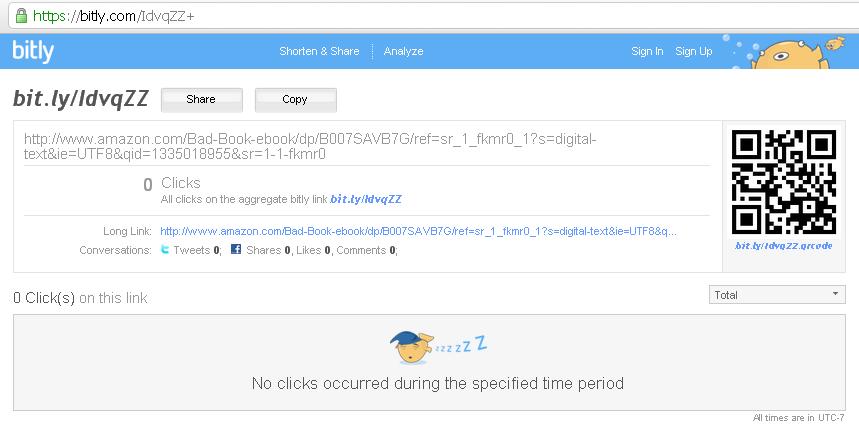 Now before everyone jumps down my throat for not saying the popular Bitly.com – if that's what you're more comfortable with, use it. Bitly does offer quite a bit of functionality, reporting and more.
What I like about TinyURL.com is that it's quick and you can customize the shortened URL so it doesn't look like you're providing a 'mystery link'. I'm far more willing to click on tinyurl.com/BADBOOK than bit.ly/ldvqZZ. Do you smell what I'm stepping in?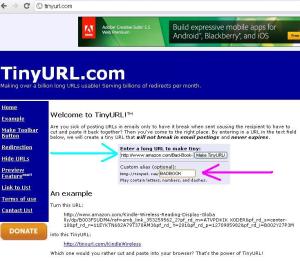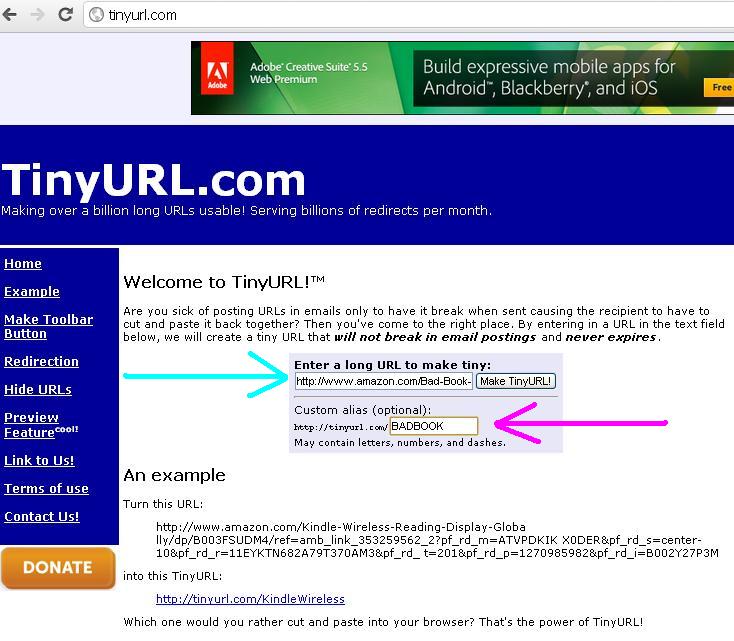 So, go to TinyURL.com and paste in your ugly, nasty long-ass URL where I've put the aqua arrow. Then type in what you'd like your new, short and sassy URL to be where I've put the magenta arrow. Yes, that is magenta. I had the box of 164 kajillion different Crayola crayons when I was a kid and I memorized them all, even burnt sienna and cornflower. But I digress. Click the Make TinyURL button.
TinyURL.com will tell you if someone has already used the link you've chosen. In this case, someone has already used BADBOOK – ruffians! Imposters! So, I added parody to the end and tried again. Now I have my spiffy new shortened, convenient and easy to fit in a wallet URL: http://tinyurl.com/BADBOOKPARODY.
There's no longer any need to provide people with hideously long and gnarly links. And, you can use these links over and over again – it's not just a one-time use thing. So record them somewhere and share away!
Remember, when it comes to links, size matters. Shorter is better. And let's just leave it at that. Now practice making your short links today because tomorrow you'll be able to share them in our "Shorter is Better" like-fest!