Today we have a sneak peek of Laurie Boris' new book, Drawing Breath: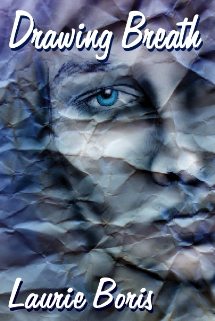 Students often fall in love with their teachers. Despite warnings from her mother, that is exactly what sixteen-year-old Caitlin Kelly does. But Daniel Benedetto isn't just any art teacher. Not only is he more than twice Caitlin's age, he rents the Kellys' upstairs apartment and suffers from cystic fibrosis, a life-threatening disease.
Caitlin watches in torment as other people, especially women, treat Daniel like a freak because of his condition. Because to her, Daniel is not a disease, not someone to pity or take care of but someone to care for, a friend. As Caitlin's art education progresses, her feelings for Daniel grow into love and desire. In a well-meaning yet naive gesture, Caitlin crosses the line and interferes with his private life, sparking a chain of events with devastating consequences. Neither of them will ever be the same again.
Drawing Breath is available for purchase on Amazon.com.  
And now, from Drawing Breath:
Daniel once told Caitlin that taking his life drawing class would be a good opportunity to learn fundamental skills.
So much for that, Caitlin thinks, slumping in her chair. Despite her best efforts, the figure on her sketchpad is nothing but a blob: a fuzzy, overworked, impatient, smudged graphite blob with legs, hair, and fat, pendulous breasts.
In the four three-hour evening sessions she's soldiered through so far, wearing down her pencils, kneaded erasers, and the patience of everyone around her, all she's learned is that she's wasted twelve hours.
She mentally rehearses what she'll say to Daniel when he comes around. While it was nice of you to make space for me in your class and nice of my mother to forgive last month's rent in exchange for tuition, this isn't really working out.
Besides, she'd rather paint, covering big, blank surfaces with energetic splashes of color. She'd rather work from her imagination instead of from the lumpy, nude model the community center had provided. If Caitlin looks like that one day, she hopes someone will shoot her. She certainly wouldn't have the nerve to pose naked in front of a whole class. Even thinking about doing it fully clothed, with all those strangers staring, gives her a creepy itch.
Yes. I'll tell Daniel it was all a mistake.
Six easels away, he traces the lines on someone's drawing, stooping over to point out a technique to be corrected. She watches the confident sweep of his odd, beautiful hands. His fingers are long, bulbous at their tips like a giant, human tree frog. Other than Daniel, she's the only one here who knows why.
[subscribe2]