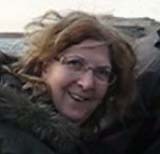 Those of you who pay attention (I told you there would be a test later) know that Carolyn Steele has written some fine guest posts for us, based on her experiences as a paramedic and a hospice worker. She has worn many hats, and the richness and diversity of her journeys endow her writing with an ample authority. Plus, I caught her lounging about aimlessly, making her an easy target for my tranquilizer gun, which I have now nicknamed "The Recruiter."
Carolyn has been a psychologist, a paramedic, a patisseur (which is something having to do with food way too fancy for me to afford), a proofreader and several other things, not all of them beginning with P. She began writing the day she decided to see the world…doing both just to find out whether she could.
Originally from London, England, Carolyn is now settled in Kitchener, Ontario. On a whim, she trained to drive 18 wheelers and hit the road to see what would happen. There will soon be a book. She will be off soon on another shiny project to see if pest exterminators are interesting. Multi-faceted or easily bored? It depends who's asking.
Between adventures she writes advertising copy and inflammatory leaflets, develops and SEOs websites and dabbles in podcasting. Someday she will write about her more serious passions, palliative care and PTSD.
Plans, podcasts, tales and the first book can all be found on Carolyn's blog, Trucking in English.
Please welcome Carolyn Steele to the Indies Unlimited family.