Today we have a sneak peek from author Richard Brawer's suspense/thriller, Beyond Guilty: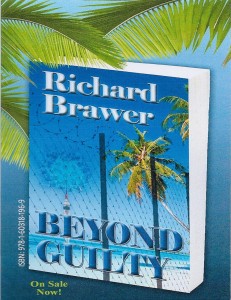 At fifteen, Eileen Robinson lives in an ideal, middle class African-American family in Houston, Texas. When her father is murdered, an innocent victim in a drive by shooting, her sheltered life spirals downward into gloom. Her once stay-at-home mother is forced to go to work cleaning offices at night. Instead of enjoying her carefree teenage years hanging with her friends, Eileen is relegated to babysitting her two younger sisters. One night she sneaks out on them. Trying to cook something, they die in a fire. Tormented and wanting to kill herself, Eileen runs away from home. Befriended by a drug dealer, she moves in with him. At twenty-one she is a single mother of two, falsely convicted of killing a state senator's son. At thirty-two she is executed. Or is she?
Beyond Guilty is available in print and for Kindle at Amazon.com, and in print and for Nook at Barnes & Noble.
And now, from Beyond Guilty:
I grabbed my purse and slung it over my shoulder.
"Where are you going?" my ten year old sister asked.
"Out.  I'm tired of babysitting you two.  You're old enough to take care of yourselves."
"I'm hungry."
A horn tooted three short beeps.
I stomped into the kitchen and yanked open doors and drawers, grabbed plates, peanut butter, bread and a knife and slammed them on the table.
"I had peanut butter for lunch," my eight year old sister protested.
The horn blared a long, impatient blast.
"Eat it, don't eat it, I don't care," I said and ran out of the house.
**********
"Mama, I'm sorry," I said, tears streaming down my face.
Twirling red and white lights on fire engines bounced off my mother's paralyzed face.  Her mouth hung slightly open and her eyes were fixed in a deadened stare.  The smell of smoke and burnt wood from the smoldering ruins of our house engulfed me as I watched the firemen reverently place my sisters in black bags and slowly draw the zippers over their charred bodies, their arms cocked in a boxer's stance, looking like they had tried to fight off the flames.
When their faces, frozen in an expression of perpetual pain, disappeared under the heavy plastic, Mama turned her head slowly to me, and, as if awakening from a coma calmly asked, "Where were you, Eileen?"
"Mama, I'm sorry," I repeated.
Fighting to catch her breath, she screamed, "You're sorry?  You're sorry? You're sorry if you spill milk!  You're sorry if you break a glass!  Then you clean it up and try to do better the next time.  You can't clean this up, Eileen!"  With each gasp of breath her anguish grew and her voice became louder until she fell to her knees and pounded the dirt with her fists.  "You killed your sisters!  Get away from me!  I never want to see you again!"
Before Daddy was murdered, an innocent victim in a drive by shooting, my life was a Disney fairy tale, only with a black princess.  That's what Daddy called me, his African-American princess.  Daddy had a good job as an assistant postmaster.  He rarely missed a dinner with us.  He helped me with my homework.  He snuck out of the post office to attend all my gymnastic events.  We went to church almost every Sunday, and that's where I ran.
Sitting in a pew staring at the big cross behind the altar, I tried to rationalize what I'd done.  If Daddy hadn't been killed…  if Mama hadn't had  to go to work at night cleaning offices to support us…  if I wasn't selfish, wanting to hang with my friends at the mall and hadn't run out on my sisters…  if they hadn't tried to cook something and die in the fire…
If―such a little word that bore such huge consequences.  I could say if for the rest of my life, but it wouldn't change a thing.  My sisters were dead and it was my fault.
 _______________________[subscribe2]