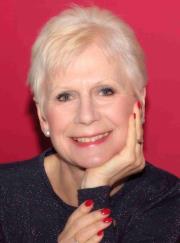 A few weeks ago I featured three books written by members of our illustrious team (see here). Our team is now made up of many members and lots of books, so here are another three. (I'm trying to keep up, team, I'm trying really hard!).
This week I would like to draw your attention to Joe Café, by J D Mader, The Joke's On Me by Laurie Boris and Bad Book, by Mader, K S Brooks and Stephen Hise. Three different books, three very good reads.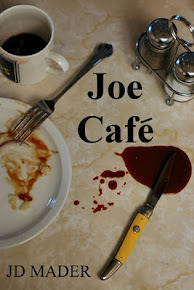 Joe Café is Dan Mader's first novel. I read this in one sitting. I picked it up intending to make a start on it and didn't put it down till I had finished. Yes, it's good, very good.
The second you meet each character (good or bad) you are instantly captivated by every one of them. How Dan manages to make you care about a sadistic killer is talent indeed. A thoroughly satisfying read. (Read my full review.)
_____________________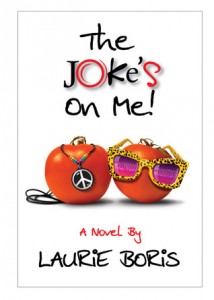 Equally satisfying and a complete contrast to Joe Café is Laurie Boris' The Joke's On Me. This was one of those curl-up-on-the-sofa-with-a-nice-warm-of-cup-of-cocoa-type books. It's funny, it's poignant, it's heart-warming. It has all the ingredients of a feel-good novel. You know you're in good hands the minute the main character, Frankie, appears on the scene, having lost everything she owns to a mudslide, with nothing but a red Corvette and the contents of a gym bag to wear. (Read my full review.)
_____________________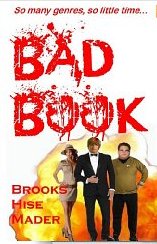 The last of my trio was written by a trio. Mader, Brooks and Hise collaborated on Bad Book. If you put together three extraordinary talents, the outcome is destined for the halls of triplexcellence. Bad Book is a Good Book. It exercises your mouth muscles (you can't stop grinning), it exercises your stomach muscles (you can't stop laughing out loud), it exercises your fingers (you can't stop bleating about it on Facebook).  Don't miss Case (just 'Case') as he travels the literary genres with rib-tickling results. (Read my full review.)
I'm waiting for Even Badder Book now.
*     *     *     *     *
Cathy Speight is an accomplished book reviewer and Chief Consulting Reviewer at Indies Unlimited. For more information, please see the IU Bio page and her blog.
[subscribe2]