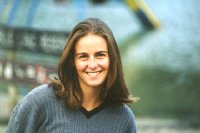 I am pleased to announce that my satellite-based tranquilizer gun is working and I have now been able to—um, persuade New Zealand based author Melissa Pearl to join the team here at Indies Unlimited.
Melissa is the author of the Time Spirit Trilogy, which includes Golden Blood, Black Blood, and Pure Blood. She was born in Auckland, New Zealand, but has spent much of her life abroad, living in countries such as Jordan, Cyprus and Pakistan… not to mention a nine month road trip around North America with her husband.
She is now relocating to China with her husband and two sons. She is a trained elementary teacher, but writing is her passion. Since becoming a full time mother she has had the opportunity to pursue this dream and her debut novel hit the internet in November, 2011. She loves learning about the craft of writing and endeavours to make each new book better than the last.
You can learn more about author Melissa Pearl and her writing at her blogs, Melissa Pearl and YALicious. You can also find her on Facebook and follow her on Twitter.
Please give a warm Indies Unlimited welcome to Melissa Pearl!
[subscribe2]