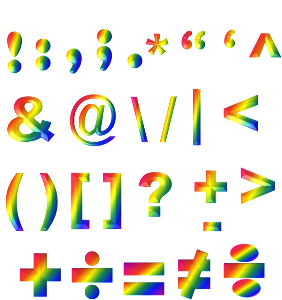 Yes, he's very annoying. You don't want to use him, you try to ignore him, but darn him, he'll muscle in at every opportunity. So much so that he confuses you and drives you absolutely bonkers. And he has the absolute gall to wink at you…
; ; ; ;
Yes, I'm talking about the semicolon – a period and a comma, stacked up nice and neatly but seem to confuse and perplex so many people.
In fact, the instances in which the semicolon is used are comparatively few. Just remember two basic rules and you can't go wrong.
In a nutshell, the semicolon is used in the following circumstances:
Between two closely-related independent clauses which are not joined by a conjunction (and, but, etc):
Lois and Yvonne went to the zoo at the weekend; Yvonne loves animals.
The link between the clauses means that the semicolon can be used, although a full stop (period) could have been used if you were in any doubt. Remember that each of the clauses must be able to stand alone.
In this example, the semicolon should not be used:
Cornwall has a stunning coastline; sandy beaches and great surf.
The latter clause cannot stand alone.
In a complicated list of many items, many of which themselves contain commas:
The meeting was attended by Stephen Hise, Founder; Kat Brooks, Co-Administrator; Dan Mader, Contributing Author and Cathy Speight, former Miss World.
And that's all there is to it. Remember those two basic rules and you'll be able to wink right back at that cheeky little chappy.