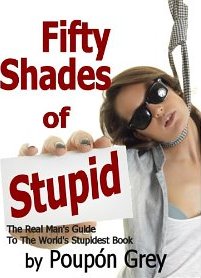 Warren Murphy, whose books and stories have sold fifty million copies worldwide, has just released a new title: Fifty Shades of Stupid.
Fifty Shades of Stupid is Murphy's response to E.L. James' Fifty Shades of Grey, and is written under the pseudonym "Poupon Grey." The book was released on May 24, 2012 by Destroyer Books and already has five-star reviews:
"… 50 Shades of Stupid is a hilarious analysis of the momporn phenom known as 50 shades of Grey. I found myself laughing out loud the whole time I read this short but trenchant gem. Highly recommended!"
"There are a lot of "50 Shades" parodies out there now. This is not one of them. Instead, this is … more of a review. It provides 20 points about how the book is dumb, and 30 examples of the book's worst writing. If you know someone who likes the book, this could be used as a conversational guide to engage in them in debate, and/or to show them the error of their ways. It highlights the book's most laughable atrocities in a funny, conversational way. In any case, it's definitely worth the 99 cents."
"Well, this 99 cents was worth it, about 99 belly laughs at a penny apiece. I am now satisfied that i have caught up to today's cultural phenomenon without having to read the original…"
Fifty Shades of Stupid is available for Kindle on Amazon.com.
Warren Murphy is author of over 200 books, including the Trace series and the long-running satiric adventure, The Destroyer. He has written for the movies and television: Lethal Weapon 2, The Eiger Sanction, Remo Williams, and Murphy's Law. For more information on Warren, visit his Amazon.com Author Page or his website.