In case you haven't noticed, there is a BIG difference between how Amazon sells books and how everyone else that purports to be in the book selling business does it. When talk turns to what Barnes & Noble could change to sell more books through BarnesAndNoble.com, the answers always boil down to "be more like Amazon." The problem with that is that Amazon started innovating the day they went into business and have never stopped trying out new things.
In the last couple weeks I've discovered two new innovations that are being tested by Amazon and appear to be headed our way. I'm guessing that if they're deemed successful (meaning Amazon makes more money and it is a positive for their customers) then both programs will get rolled out to everyone. Each of these has the potential to be positive for indies.
The first is allowing indies to schedule the release of their book and for customers to pre-order that book prior to release. They've run a pilot program with selected indie authors being invited to give this a test run. The benefits should be obvious to any of you who have tried to schedule book release activities while coordinating the timing of your book being available on Amazon with your "official" release date. I know Amazon quizzes authors from time to time asking for ways they can improve and I'm sure this idea has been dropped in the suggestion box many times. (I'm going to assume it is coincidence that Smashwords recently started offering this ability for books distributed through them to some retailers.)
I suspect this will also change the way the game is played for those trying to maximize the help they receive from Amazon's algorithms on a new release. How that will change, I don't know. I'll do like the rest of you and wait for David Gaughran to weigh in with the answer.
Second, I received an email from Amazon.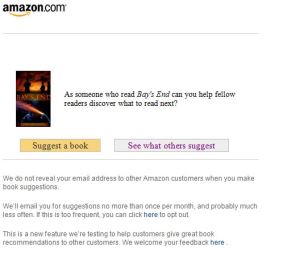 This is interesting for all the obvious reasons and generates some questions for which I mostly don't have answers. Is this going to be used to come up with an additional set of recommendations for customers, to enhance current recommendations, or maybe both? (Actually the "see what others suggest" button on the email at least partially answers that question.)This seems more like the kind of thing I'd have expected from Goodreads. I can't help but wonder if Amazon's purchase of Goodreads is behind this in some way. It's also interesting because this isn't a book I purchased from Amazon, although I did post a review. I'm not sure if that indicates that they'll choose books to ask readers about based just on what they've reviewed in the past, on purchases, or some combination of factors.
If you're interested, here's the process I went through after clicking the "suggest a book" button in the email.
First, I got this screen where I was allowed to enter the name of a book. (This functions much like entering a book name in the search screen on the main Amazon site.)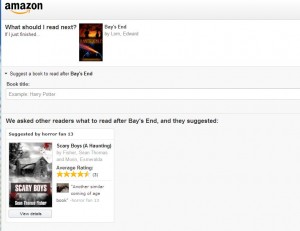 After selecting a book you're asked to explain your reasoning.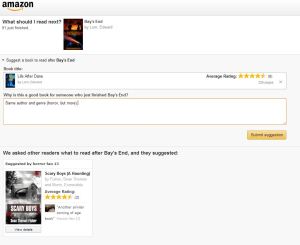 And you're then given the option to search for another book to suggest.

How this will help you might not be apparent. In fact, it might not. But, in my opinion, anything that provides other ways for customers to discover your book is a positive. We can be sure Amazon has other changes in the pipeline. If we're lucky, they'll all be good like these.