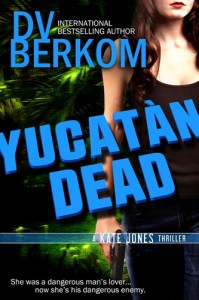 Yucatán Dead
by DV Berkom
Genre: Action/adventure, thriller
Word count: 65,000 (approx.)
She was a dangerous man's lover…now she's his dangerous enemy.
For Kate Jones, being on the run from her former lover—the vicious leader of a Mexican drug cartel—was never going to be easy. But with a new identity, a new lover, and a new life in Arizona, she was beginning to believe she'd made it through the worst.
Then, in an act of twisted revenge, Kate's kidnapped and imprisoned by her deadly enemy, his intention to force her to pay back the money she stole before he kills her.
Fate intervenes and she finds herself working against the cartels deep in the Yucatán with a group of off-the-grid commandos. From peaceful northern Arizona to the steamy jungles of Mexico, Kate Jones must decide for herself if she'll continue to run…
…or turn and fight the evil that pursues her.
This book is available from Amazon, Barnes & Noble, and Smashwords.
How did you come up with the title for your book? Does it have any special meaning?
The main character is given the nickname Yucatán Kate by a commando she meets. At one point in the story, she expresses her unease with her role in an upcoming op by saying, "I'll give you a worst-case scenario. Yucatán Kate's going to be Yucatán dead." It fit.
Who was your favorite character and why?
Kate's always a favorite, but the leader of the group of commandos, Quinn, was really fun to write. Where Kate's pretty much a what-you-see-is-what-you-get kind of girl, Quinn has a tight rein on his emotions and doesn't suffer fools gladly. The interplay between them is interesting.
Does your book have any underlying theme, message, or moral?
When I finished the book, I realized one of the two main underlying themes mirrored Mexico's struggle against the massive rise in cartel violence. In Yucatan Dead, Kate has to decide whether she'll fight back or allow things to remain the same. The people of Mexico face the same choice.
What would/could a reader or reviewer say about this book that shows they "get" you as an author?
That the book was fast-paced and exciting, the characters well-drawn, and the setting realistic. And that, in addition to enjoying the book, the story increased their awareness of the problem Mexico faces as a nation under siege by the cartels.
Give us an excerpted quote from your favorite review of this book:
"…Do yourself a favor: pour an ice-cold margarita and curl up in the shade with Kate's latest adventure. Wait; make it a pitcher. You're gonna be there a while…this one is not letting go until the very end…"
Where can people learn more about your writing?
http://www.dvberkom.com