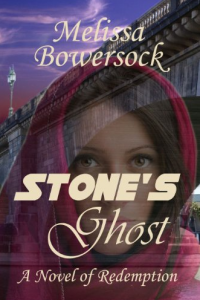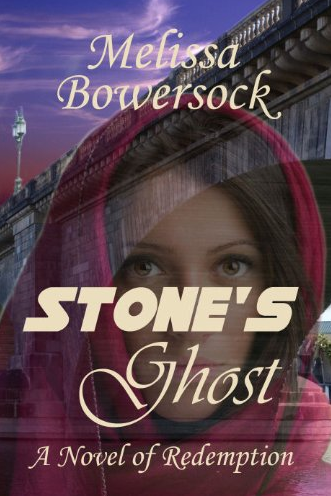 Today we have a sneak peek from Melissa Bowersock's paranormal novel, Stone's Ghost.
Matthew Stone doesn't believe in ghosts … until he meets one. He owns a successful business in Lake Havasu, Arizona, home to the famed London Bridge that was brought over stone by stone and rebuilt over the Colorado River. He has a gorgeous girlfriend, a doting mother, and more money than he needs, but no time for stories about the ghosts who were transplanted from England with the famed bridge. When a chance encounter with a female ghost leads to unexpected friendship, Matt and the ghost are forced to rely on each other as they confront the pasts that haunt them.
Stone's Ghost is available through Amazon.com and Amazon UK.
Here is an excerpt from Stone's Ghost:
The small hairs on the back of his neck stood up, as if light fingers hovered just above them. Instantly alert, he forced himself to stand still even though he would have liked to jerk upright and look about the bridge. Controlling even his quick, shallow breathing, he kept his head still but focused on the periphery of his sight. He felt more than saw it, but thought there was something standing to his right. Something dark. Slowly, slowly, he turned his head.
That shape. Smaller, shorter than the woman who had just passed, this person was almost petite, or at least he thought she would be under the heavy black clothes. She stood—floated—just scant feet away, hovering near the balustrade with a tension that suggested to Matt she would vanish at the slightest move. At the same moment that he realized he could actually see the bridge behind her—see through her—he also noticed the almost wild light in her eyes. Eyes that were looking directly at him.
He was shocked at the directness of her stare, at the fact that she actually seemed to be aware of him. She seemed equally shocked. Still reining in his desire to stand up fully, to turn and face her, he forced his heart rate and breathing to calm and regarded her quietly. He'd never been much for meditation or alternative consciousness, but now he willed all his energy into projecting as much friendship and caring concern as he could.
Relax, he told himself—and her—silently. Relax, stay calm. It's okay. Briefly he wondered if she would understand the term okay. He wished he knew what century she was from.
She seemed to hover not only physically but mentally as well, as if she vacillated between staying and disappearing. Her eyes, bright on him, yet seemed to dart about, taking in everything around them. If she were solid, he thought she might put a hand out to the stone balustrade to steady herself, but in her semi-transparent state, that made little sense.
He could see now that she wore a long skirt and odd, narrow shoes that peeked out from underneath the hem. He couldn't make out the blouse she wore, for it was mostly covered by a black knitted shawl that she held close to her throat. The shawl covered her hair as well but he saw a dark wave of hair across her forehead. He realized now that she was not dressed entirely in black; the sleeves of her blouse, visible in front of the shawl, were a dark brown. Her skirt, as he looked more closely, seemed to have a muted vertical striped pattern.
Her eyes fascinated him. They shone with an unearthly light, as well they should, he thought. They were dark, yet soft and vulnerable as a deer's. If he tried, he could imagine fear, helplessness and heartbreak there. They glistened with surprising moistness and he suddenly realized she was crying. Although she emitted no sound, tears pooled in her eyes. The distant streetlight behind him starred the tears.
---