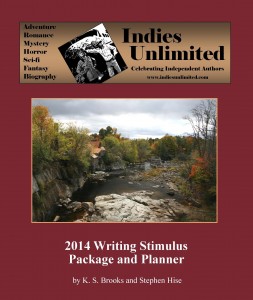 Yes, that's right, the 2014 version of the non-award-winning, non-bestselling Writing Stimulus Package and Planner is now available – just in time for you to not buy it! How fabulous is that? If you work really fast at procrastinating, you can miss out on not only next year's, but this year's handy publication as well! (Although they will still be available online for purchase forever *cough*.)
Available at Amazon.com and Amazon UK.
Thirteen months of writing prompts – from the creative minds at Indies Unlimited. This 2014 personal planner is loaded with writing holidays, famous author birthdays, events, and inspirations. Get yours today or you won't know what day it is. Bonus pages in the back help you write your own press release. Don't forget, if you use the writing prompts each month, at the end of the year you'll have thirteen short stories you can publish in your own eBook. Writing prompts by Stephen Hise; full color photography by K. S. Brooks.
If you need to be convinced of how absolutely awesome this year's Stimulus Package is, don't take it from us. Here's what a complete stranger we accosted had to say: "Of all the books I've been made aware of, this is one of them." How can you not want to buy now?
Still not convinced? Please watch the informative video, making sure to pay special attention to the subliminal messages urging you to purchase this amazing book!