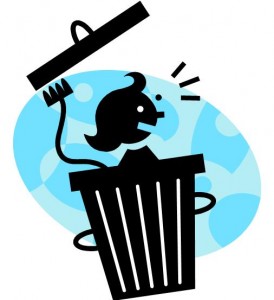 Milestones are tricky beasts. Sometimes they nudge your life in a different direction through stealth, and you are not even aware of them until months, or even years, later. Others announce their presence with a trumpet voluntary and fireworks.
In the last two years I have sprinted past a number of milestones – first blog, first blog post, first submission, first publication, first review, first podcast, and now first rejection. Yet of all those firsts, the one that has made the least impact on my life was the last.
Being rejected by Harper Voyager [the science fiction imprint of Harper Collins] should leave me feeling gutted. It doesn't. And no, I'm not just saying that to cover up some deep seated, intensely private pain. There is no pain. As milestones go, this one did not even make it to a whimper much less a bang.
For me, all the emotional fireworks happened while I was agonizing over whether to submit to the Harper Voyager open submissions or not. Now that was a major milestone. You see, up to that point I was well and truly ready to become an indie. In fact, I was looking forward to striking a blow, however microscopic, against the woes of traditional publishing. I wanted to show that indies were the ones carrying the torch of creativity and innovation. In a word, I was primed.
And then that damned open submission went viral. I could not pretend I did not know about it, and I could not ignore it, not without feeling like an utter coward for the rest of my life.
I am not a conventionally brave person. You won't find a well-worn Wonder Woman outfit in the back of my cupboard. However I do have a thing about courage. I believe true courage lies not in a lack of fear, but in the ability to conquer that fear. That is the golden rule I have always tried to follow. Yet there I was, looking down the barrel of a great big, once-in-a-lifetime opportunity to face my fear of rejection, and I was scurrying in the opposite direction.
I did face my fear in the end, and I did submit to Harper Voyager, but it was a hard fought battle. When I finally pressed that Submit button I felt like Edmond Hilary on the top of Mount Everest – breathless, and a bit dizzy, but triumphant. Win, lose or draw, I had already won.
Like anyone with a heartbeat, I hoped I would be accepted – in the same way you hope that one day a Porsche 911 will miraculously appear on your doorstep. However I had no expectations of success because I knew a story about aliens, and nothing but aliens, would never make it to the best seller lists.
In their submission guidelines, Harper Voyager made it clear that anyone not accepted within three months of submission should assume they never would be.
At the end of the three month waiting period I breathed a sigh of relief, and self-published my first book, Vokhtah. That was another major milestone, and incredibly sweet. Since then I've self-published a second book, and been involved with a third. My sales have been poor, and I don't expect to become a household name any time soon, but the confidence I have gained is immeasurable. Which brings me back to milestones and Harper Voyager.
The formal rejection email I received just a few days ago was interesting, and a bit surprising as it had taken almost a year to arrive, but other than that, it was a non-event. I admit, I am curious to see what kinds of stories Harper Voyager have accepted, but I do not feel any envy, or resentment towards those writers who did succeed. I have already conquered my Everest, and I'm in training for another peak I see in the distance.
Will I ever submit to a publisher again? I don't think so. I conquered my fear of rejection, and I'm happy as an indie. Now the milestones I count are the ones to do with my craft.
Rejection has never felt so good.