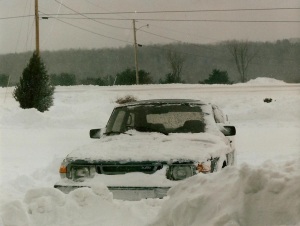 State Trooper Tom Dewitt pulled up on what he thought was a vehicle that had gotten stuck in the snow and abandoned by its occupants. The vehicle was no longer running and he couldn't see anyone inside.
He didn't want to stop, fearful that his own car might become stuck as well. He drove slowly by, and craned his neck to look into the other car.
The two occupants were slumped toward each other, and from the blood splattered on the headrests, Tom knew the serial killer they called the Snowman had returned. What Tom did not know was that the Snowman was still there…
In 250 words or less, tell us a story incorporating the elements in the picture. The 250 word limit will be strictly enforced.
Please keep language and subject matter to a PG-13 level.
Use the comment section below to submit your entry. Entries will be accepted until Tuesday at 5:00 PM Pacific Time.
On Wednesday afternoon, we will open voting to the public with an online poll for the best writing entry accompanying the photo. Voting will be open until 5:00 PM Thursday.
On Friday afternoon, the winner will be recognized as we post the winning entry along with the picture as a feature. Then, at year end, the winners will be featured in an anthology like this one. Best of luck to you all in your writing!
Entries only in the comment section. Other comments will be deleted. See HERE for additional information and terms.