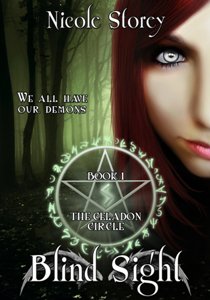 Jordan's family hunts supernatural monsters for a living…and she is their next assignment.
When Jordan is ordered to go on a hunt for a blood-thirsty creature stalking a seedy campground, her biggest worries are the decaying cabin, which is no more than termites holding hands, and being stuck inside of it with a brother who hates her…until a demon shows up with a warning.
Caught in a game between Good and Evil, lines are blurred and Jordan doesn't know who to trust. She learns a little too late that the real monster is closer than she thinks.
Blind Sight, the young adult paranormal book by Nicole Storey, is available from Amazon, Smashwords, and Amazon UK and most online booksellers.

Don't forget, you can cast your vote for trailer of the month on February 22, 2014 at 5 p.m. Pacific time.