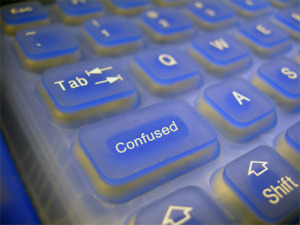 Unless you write fiction for the sole purpose of personal fulfillment, you probably hope other people will read your work. When you publish a story, you are setting up a kind of contract between you and your reader. For the investment of the reader's time and money, you agree to provide a satisfying reading experience. Of course, your definition of "satisfying" may vary, depending on what you like to read, and I'm not here to judge you. I'm here to tell you that as writers, we are communicating. Successful communication requires not just the delivery of a message but also for the recipient to understand the message. Okay, now that I've boiled down my expensive college education into one sentence, we can move on.
I'm not talking about mucking up your communication with editing errors like typos, sloppy word usage, wacky formatting, semicolon abuse and such. You are professional enough to know how to handle those or hire someone to help you.
I'm looking at the bigger picture: the choices you make in crafting your story and your characters. Each choice (and yes, it is a choice) tells the reader to expect something.
For instance, here are just a few ways you can frustrate your readers by failing to live up to your promises: 
Chekhov's Gun
Chekhov—not the guy from Star Trek—said a lot of awesomely quotable stuff about writing. Some of it was about guns. I'm not a big fan of guns, but some of you are, and they loom large in some of your stories. He said that if you're going to show one, eventually it should be fired, or else what's the point of wasting the words describing it?
Showing a gun—or anything of similar, potentially life-changing significance—leads the reader to believe that it will play a role later in the story. So if you spend a paragraph or two describing the glint of a knife as it slides into the sheath strapped to your protagonist's garter, you are setting up an expectation that the knife (and maybe the garter) will make a return appearance. When you never come back to it again, you've squandered an opportunity. And like that random chicken in the opening scene of The Hangover that never gets explained, some readers may be left wondering. Frankly I'm still wondering about that chicken.
Point of View Sleight of Hand
If you slip from Character A's point of view into Character B's, you are telling us that this character is important enough to the story to let us see it through his or her eyes. We expect that this experience will tell us something about the story that we're not getting from Character A. We also expect that, unless a giant meteorite or a shark attack has intervened, we will hear more of Character A's point of view later on. If POV Character B is essentially the UPS guy who shows up to deliver a package and never comes back, you have misdirected the reader. I don't know about the rest of you guys, but that really ticks me off.
Random Metaphor Sightings
If you use a particular metaphor two, three, fifteen times without tying it to a significant event in the plot, you run the risk of burning some goodwill with your readers, because you've led the reader to believe that the sunflowers or the baobab tree or the recurring appearance of the Madagascar hissing cockroach means something "bigger" in the story. Okay, an occasional reference to pterodactyls, penguins, or small white dogs can be a fun inside joke for your favorite readers, but letting a dinosaur in some form scurry through every chapter tells the reader that later on, an evil scientist might try to clone one and, well, you know what happens then.
Minor Character Abuse
Say you've decided it would be fun to put Aunt Sylvie in a novel one day. Not a problem; we do it all the time. So you make her into minor character, give her a different name, talk about her penchant for steak tartare, have her say a few lines of dialogue in her adorable Dutch accent. And after she downs a martini and tells a rude joke, she exits, stage right, never to return. Giving her all this real estate sets up an expectation that she will be important later on, or at least that she'll come back from the loo. Why waste precious words that you could have used describing the Madagascar hissing cockroach's magnificent exoskeleton?
The Red Herring Exception
Sometimes you have good reason to misdirect your reader; you want to hint that Character C is kind of shady and might be the murderer, or at least the guy who steals your newspaper every morning. This helps keep dramatic tension high in suspense novels, mysteries, and thrillers. Even in some romance novels. But that's a choice, too. Readers want to feel smart, like they're a step ahead of the characters. If you're too opaque, if you don't give them enough clues, they might not follow.
Have you seen any particular literary devices go off with a whimper instead of a bang? Or any that have worked exceptionally well?