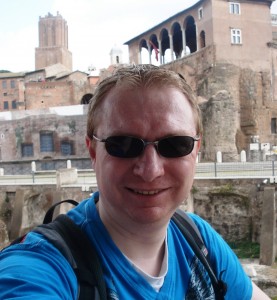 Guest Post
by Simon Goodson
There's something strange going on with free Kindle books. You can use KDP Select to make your book free, but only for 5 days every quarter. Yet some books are free day after day, week after week – what is known as perma-free.
Here, in theory, is how to make your book perma-free on Amazon…
a) Publish your book on kindle.
b) Publish the same e-book through another online retailer with the price set to free.
c) Tell Amazon that you've found the book at a lower price. Go to the books Amazon page, then to Product Details (third section down). The last line ends with a link titled "tell us about a lower price.
d) Amazon checks the information you provided, then lowers the book's price to zero.
Easy isn't it? Well, not quite that easy. There are a few gotchas…
Problem 1 – The book must not be enrolled in KDP Select
If you've enrolled your book in KDP Select you can't make it perma-free because you are not allowed to publish the eBook anywhere else. You'll have to turn off automated renewal of KDP Select and wait for the lock-in period to expire before trying for perma-free.
Problem 2 – Amazon only price matches certain sites
Amazon won't price match against the smaller sites. There isn't a definitive list anywhere but its safe to say the bigger the site the more likely Amazon is to price match against it. When reporting the free price to Amazon use one of these sites…
 iTunes
 Nook (Barnes & Noble)
 Kobo
Problem 3 – Reports of a free price disappear into a black hole
This is one of the murkiest areas in the process. No one knows what makes Amazon choose to price match. Most times reporting the cheaper price yourself isn't enough.
How do you improve your chances? Ask friends and family to report the cheaper price to Amazon. It seems that having more people report the free price makes price matching a lot more likely. It's logical too – Amazon won't want to lose lots of potential customers to a cheaper competitor.
Problem 4 – Amazon treats each region separately
Reporting a cheaper price on the US Amazon site should, eventually, get your book perma-free in that store. Unfortunately the price won't change in any of the other Amazon regions. To also make your book perma-free in the UK you have to repeat the process using the UK product page. And so on for each region.
The price match site becomes critical here. It needs to be a direct competitor to the Amazon region. Amazon UK is unlikely to price match if you provide a link to the US Nook store. Providing a link to the UK Nook store will make them sit up and pay attention.
Wherever possible make certain that the link to a free price is to a site that competes with that Amazon region.
Problem 5 – Books may not stay perma-free
This happened to me recently. I'd managed to get my first book, a collection of short stories, perma-free in both the US and UK Amazon stores. Everything was fine for a few weeks then it reverted to its original price in the UK (99p). The US site still had the book for free.
If this happens you get no feedback from Amazon explaining why it is no longer free. You just have to go through the whole process again.
Time to get (and give) a helping hand
So that's how to make your book perma-free on Amazon. It's an easy process to follow once you know the details. The main problem is getting lots of people reporting the free price to Amazon. Relying on friends and family is all very well, but why don't we try something different?
If you are trying to get a book perma-free then post a comment below. Help out everyone else who posts by going to their book's Amazon page and reporting a cheaper price. Together we can storm the free charts without relying on KDP Select!
Comments should contain the following information:
Book Title
Author's Name
One sentence description
Kindle product link (just one region)
Site(s) where the book is free
And good luck!
---
Simon Goodson is the author of the highly rated Wanderer's Escape science fiction novel, its sequel Wanderer – Echoes of the Past and two books comprising the Dark Soul Silenced fantasy story. Simon fits in writing around a full time job as an IT Consultant and a hectic family life looking after his son and two daughters. He can be found head down, writing on his laptop, lunchtimes and during the commute home. You can learn more about Simon at his website and his Author Central page.
---
The material provided in the guest post is intended for informational purposes. Indies Unlimited has no position either for or against the views and methods stated by the author of the post. We do not know, or profess to know, Amazon's position on the matter. Anyone choosing to participate in the exchange of information advocated and described in the article does so on their own volition and initiative.